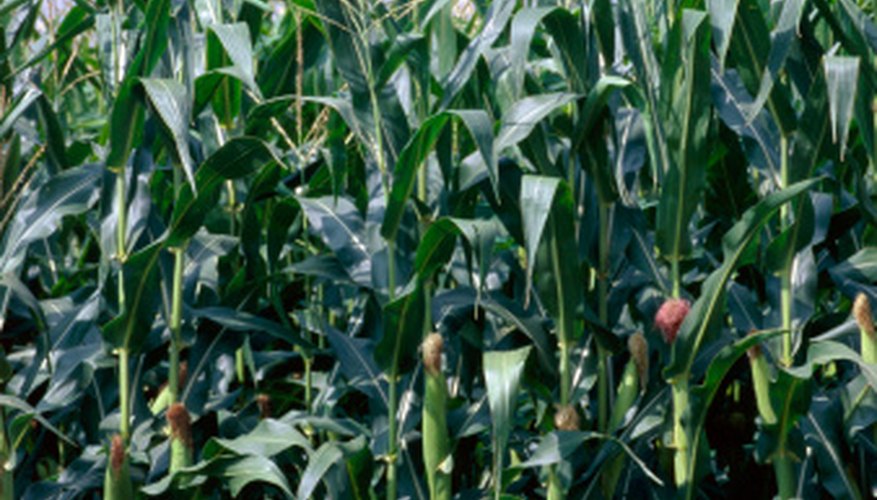 Jupiterimages/liquidlibrary/Getty Images
One issue stumping gardeners growing sweet corn is the occasional stunted growth of plants, including sweet corn. Causes include viruses, pests and unfavorable environmental conditions. Many of these conditions lead to nutrient deficiencies in the sweet corn plants.
Significance
Sweet corn planted in soil with a pH level of 5.2 and below grows stunted. Good corn growth occurs in soil with pH levels in the 5.5 to 7.0 range. After soil testing, the pH level can be fixed with the incorporation of lime after the sweet corn is harvested.
Warning
Sweet corn is susceptible to maize chlorotic dwarf virus, which turns the young leaves yellow or red and severely stunts the corn plants. Leafhoppers transmit this plant disease.
Considerations
Parasitic nematodes and grubs cause serious damage to the roots of sweet corn plants. The only above ground sign of pests feeding on the roots is stunted growth in localized areas. The root damage of these types of pests causes nutrient deficiency in the plants.
Other
Sweet corn will grow stunted if planted in compacted soil, which leads to abnormal root growth and nutrient deficiency. Herbicide carryover from the previous growing season will also stunt sweet corn.