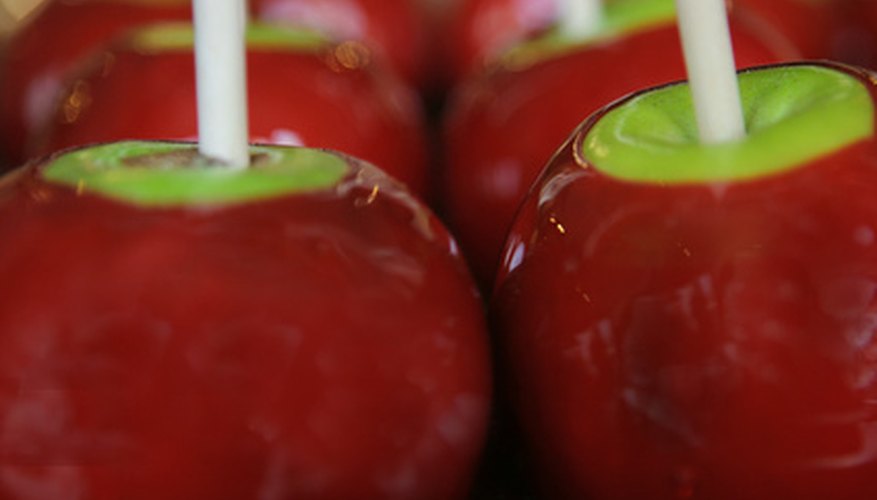 Candied apples are known for being sweet summer treats with candy-coated apples attached to a stick. When you have a bunch of fresh gala apples you can create a dessert that is also fun for children to take part in. For a sugarless recipe of candied apples you can substitute sucralose for table sugar. It's also important when making your candied apples that you cook the sugar-free mixture at just the right temperature.
Add 1-1/2 cup of sucralose, 1/4 cup of light corn syrup, 1/2 cup of water and 2 tablespoons of honey to a large pot. Stir the mixture and then bring it to a boil.
Use a candy thermometer to check the temperature of the mixture. Continue boiling the mixture until it reaches the temperature of 300 degrees.
Stir the mixture one last time and then remove the pot from heat. Don't stir the mixture again.
Wash six gala apples in cool running water and then dry them off with paper towels. Stick lollipop sticks into the tops of the apples.
Dip the apples into the heated sugar mixture and coat each apple. Place the apples onto wax paper and serve once the candy coating has hardened.
Things You Will Need
Large pot

Stirring spoon

Candy thermometer

Paper towels

Wax paper

6 gala apples

1-1/2 cups sucralose

1/2 cup water

1/4 cup light corn syrup

2 tbsp. honey

Lollipop sticks