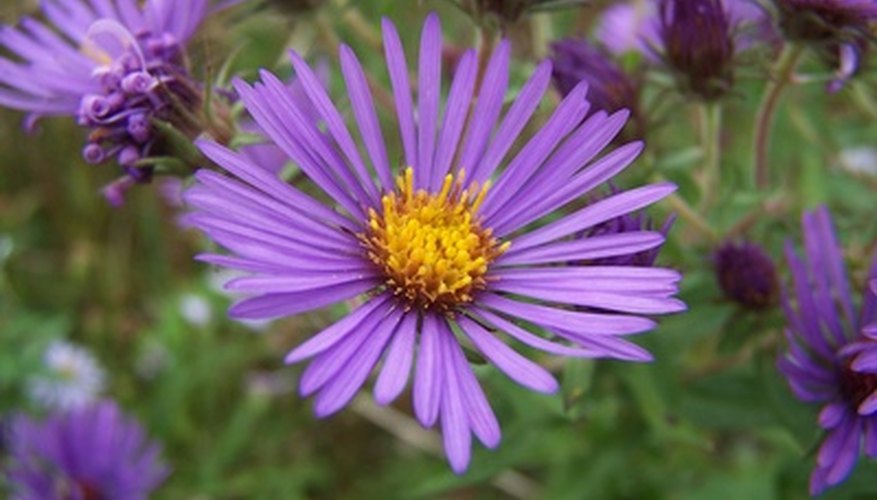 Flower blooms are available in almost every color imaginable, and thanks to garden hybridization, striped and patterned flowers as well. Those who find purple flowers to be especially intoxicating are in luck, as there is a wide variety of lovely purple flowering plants to choose from for the home garden.
Purple Dome
Purple dome (Aster novae-angliae), also called New England aster, is a flowering perennial native to the Eastern United States. The plant reaches an average height of 1 to 3 feet, making it popular as a flower bed or border plant. Purple dome sports blue-green foliage and fluffy, purple daisy-like flowers, which appear throughout the summer and well into fall. The showy blooms of the purple dome are highly attractive to butterflies. Purple dome will grow in partial sun or full sunlight in USDA zones 4 to 8. For best results, grow purple dome in a fertile, well draining soil that's kept somewhat moist throughout the growing season. The plant is fairly pest-free and is resistant to mildew.
Princess Flower
A member of the meadow beauty family, princess flower (Tibouchina urvilleana) is a frost-tender perennial that hails from tropical Brazil. The shrub has a mounding habit, and can be pruned to look like a small tree. Princess flower rarely exceeds 15 feet in height. The plant sports velvety, lanced-shaped leaves and silky, royal purple flowers, which show up throughout the year (but predominately in summer). The princess flower is a warm-weather lover that will only really thrive in USDA zones 8 to 12. The plant prefers full sunlight in cooler regions, and a little afternoon shade in hotter climates. Cultivate princess flower in a fertile, rich soil that's moist, but not waterlogged or wet.
Lablab Bean
Also called hyacinth bean or Egyptian bean, lablab bean (Dolichos lablab) is a perennial vine native to Asia. The fast-growing plant may quickly reach a length of 30 feet, and can be be trained to grow upwards or outwards over garden structures. Lablab bean is a major commercial product in some countries for its edible beans, though in the United States it is primarily grown for ornamental value. Lablab bean boasts dark purple or maroon bean pods accented by columns of bright purple flowers. The broad leaves are heart shaped and a shade of pale lime green. Lablab bean does best in full sunlight in USDA zones 9 to 11. Any poor soil that's acidic to alkaline will work for this hardy plant, so long as it drains well. Lablab bean is drought-tolerant, once established.