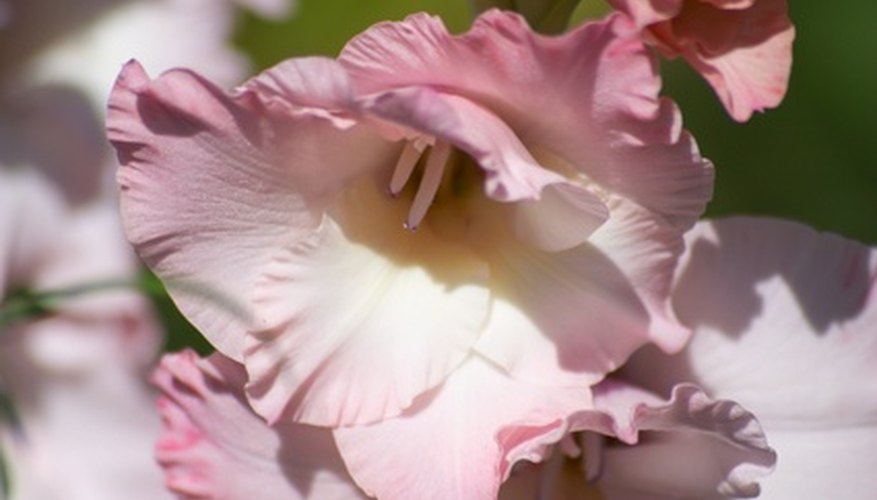 Swaziland is an independent nation of mostly mountains and hill located between South Africa and Mozambique. Flowers native to Swaziland are also found in other countries in southern Africa. Being south of the equator, the seasons in Swaziland are reversed to those in North America. Summer occurs roughly December through March. Winter is June through August.
Yellow Justicia
Yellow justicia, or Justicia flava, is a small perennial shrub that can grow as tall as 18 inches. It has bright yellow tipped tubular flowers that grow on a stem. Native to many parts of southern Africa, it also grows in Swaziland. This plant is drought tolerant and can withstand light freezes. In Swaziland, yellow justicia flowers from September to May and does best in full sun. The roots of this plant are used to make perfumed beads in Swaziland.
Natal Primrose
Natal primrose, or Thunbergia atriplicifolia, is also native to Swaziland and other parts of southern Africa. The Natal primrose is a shrub that grows flowers about 1 1/2 inches wide in colors ranging from white to yellow. The flowers eventually turn into small green fruits. These fruits are used for washing hair in Swaziland.
Starry Gardenia
Starry gardenia, or Gardenia thunbergia, is a native Swaziland plant whose wood is used for tool handles. This flowering plant grows as a small shrub or small tree. At its tallest, it reaches between 8 and 18 feet tall. This night-blooming plant has heavily perfumed white flowers that average about 3 inches in diameter. The roots of the starry gardenia are sometimes used in traditional medicine to treat skin diseases and lesions as well as fevers.
African Gladiolus
African gladiolus, or Gladiolus antholyzoides, is native to Swaziland. It is sometimes used in traditional medicine to treat diarrhea and for chest problems. Gladiolus antholyzoides is one of many species of gladiolus native to Africa and to Swaziland. It grows from bulbs and flowers throughout the summer. Gladiolus blossoms grow on long flower spikes with the blossoms on the bottom opening before the higher ones.