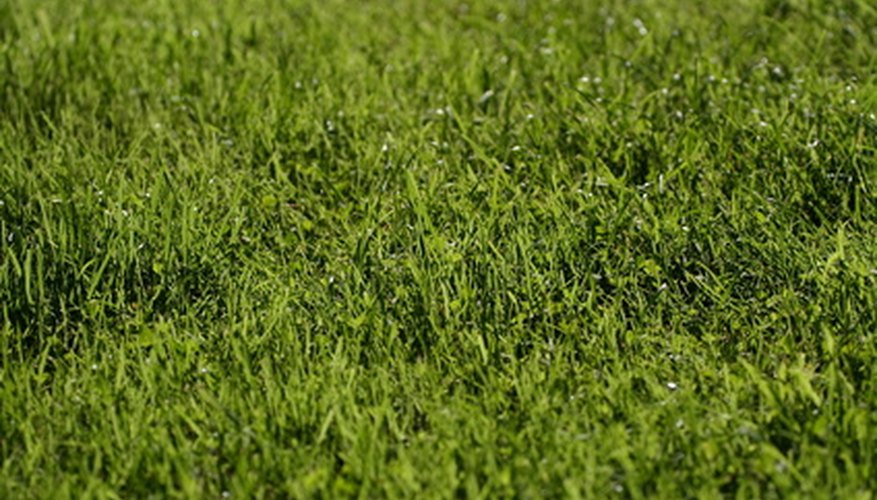 Grass lawn image by Dan Marsh from <a href='http://www.fotolia.com'>Fotolia.com</a>
Laying grass seed is the cheapest way to start a new lawn. This project is easy to complete, but does take several weeks from start to finish, first to prepare the seed bed and then to wait for the seed to germinate. Lay grass seed on a clear day when no rain is forecast to prevent it from washing away while you work. Choose a grass seed that can grow in your climate and is well suited to sun or shade.
Turn over the soil in your yard to a depth of four to five inches using a shovel. Break apart soil clumps and remove stones, debris or foreign material you encounter.
Note the grade of your lawn. The grass seed you lay will come up to cover the surface of your lawn, so any dips or peaks in your soil will create an uneven lawn. Apply bagged topsoil to low parts of the lawn, and remove extra topsoil on higher parts of the lawn to create an even grade.
Rake the soil to even it out before laying grass seed. Gardening Data recommends letting the soil settle for one week before laying grass seed; rake the area again just before you plan to sow your grass seed.
Sow grass seed over the soil following the spacing directions on your packet or using Greenview Fertilizer's recommendation of 16 seeds per square inch.
Rake the soil to cover the grass seed lightly with no more than a quarter inch of soil, which prevents it from washing away.
Water the soil until it becomes moist, but not saturated with water. Thereafter water twice daily, in the morning and the evening. Grass seed takes one to three weeks to germinate.
Things You Will Need
Shovel

Rake

Grass seed

Water
Warning
Don't walk on the soil while the grass seed is germinating; this may create bare patches in your lawn.