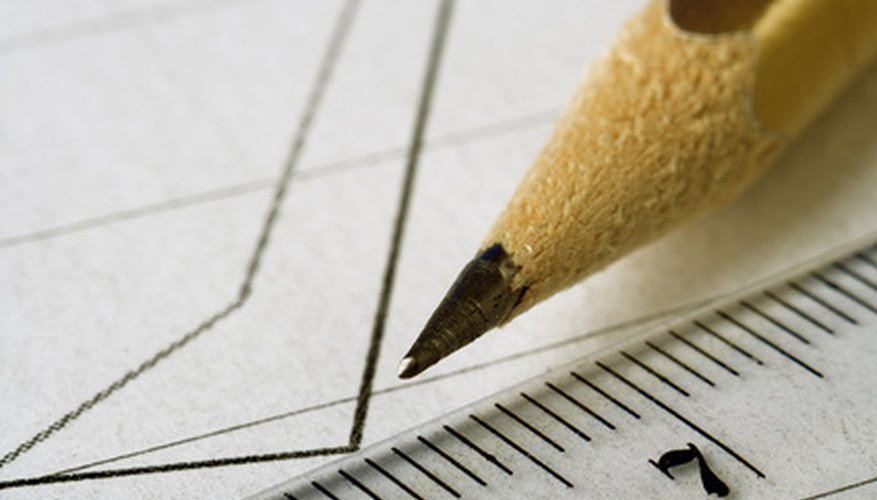 Edged flower beds, well-defined lines and geometric shapes are important elements of a formal English rose garden. Unlike an informal one with soft, curving lines and a more relaxed look, a formal one is more symmetrical. Incorporate trellises, archways, rose beds and even a fountain in the formal garden. Whether making a large garden that spans over acres of land, or a small one in your front yard, designing beforehand allows you to make necessary changes so the end result is breathtaking.
Measure the available space to decide the shape of the garden. Make sure it has well-drained soil, pH value between 6.5 and 7.0 and receives five to six hours of direct sunlight every day.
Transfer the measurements of the space on scaled graph paper, using a square to represent one foot of land. Depending on the space, incorporate an overall square or rectangular shape for the rose garden on the graph paper. Decide whether you want a boundary made from fencing, a small wall comprising of up to four brick-courses or boxwood that forms a dense growth and makes a beautiful natural boundary wall when clipped and maintained. Begin working inside the boundaries after demarcating them.
Draw the location of beds on graph paper. Decide the number of beds and their shape. Make sure all the beds are symmetrical and identical. Arrange them near the boundary of the rose garden, and draw a few near center if you have sufficient space. Space the beds equally apart for a uniformed look. Also allocate locations for planters and trellises that add color to empty spots. Separate the beds from one another with decorative edging or a natural boxwood barrier.
Incorporate a focal point in the center of the garden. Depending on personal taste it can be a fountain; a large, round flower bed filled with brightly colored roses; or a lawn. Be creative when deciding the appropriate focal point for your garden.
Draw pathways between the beds and leading to the focal point. English rose gardens feature paths made from pebbles, stone, gravel or even concrete. Break wider paths by growing a straight line of moss or grass in the middle.
Draw final touches to the design, such as a bird bath near the focal point, an archway covered with roses, benches, lanterns and garden statues.
Select roses such as floribunda, hybrid tea, grandiflora, old species, David Austen and others for the garden. Group same-colored ones together in a single flower bed, or plant them in rows to make a rainbow. Plant taller ones in the back.