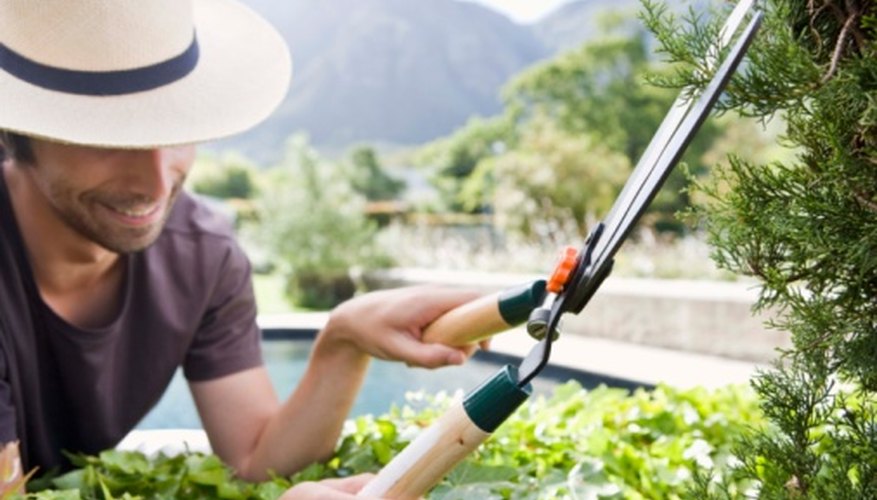 Jupiterimages/BananaStock/Getty Images
Landscaping a sloped yard around a swimming pool enhances the environment and prevents erosion. Choosing plants and features for a slope takes special consideration, especially if the pool area has space limitations. Look for low-maintenance plants that thrive in the slope's growing conditions, and consider adding hardscape that will inhibit weeds so nothing gets easily tracked into the pool.
Identify which areas are suited for plant beds, trees and a walkway. Record your measurements on a basic sketch of your pool area. Note the proximity of the pool and fence to planting areas.
Examine the slope to help you decide which landscaping features you want to add. Tiered retaining walls with plant beds to prevent erosion add color, while groundcover, hardy shrubs and a few large boulders complement the contours and stabilize the slope.
Lay the hardscape for your walkway around the pool, sitting areas and to your back door. Choose a material like concrete that will not be slippery when wet or hot beneath the sun.
Purchase shrubs, groundcover and trees recommended for your plant hardiness zone. Make sure the plants will not produce pollen or lose leaves and petals throughout the growing season to prevent plant debris from ending up in your pool.
Install tiered retaining walls with landscape timbers, brick or stone if your slope is steep. Retaining walls add structure to the landscape and you can fill each tier with plant beds. If you choose not to build retaining walls, you can plant shrubs and groundcover where the slope is less steep.
Bury boulders on the slope about four to six inches into the ground. Burying rocks creates a natural look and holds the rocks securely. Place the largest rocks near the bottom of the slope and smaller rocks near the top.
Spread a two- to four-inch layer of gravel or lava rocks over the plants. Like mulch, gravel will inhibit weeds and retain moisture, but it's not as easily tracked into the pool.
Plant trees at the bottom of the slope suited to the growing conditions. Spread gravel around the trees so you don't have to mow grass near the pool. Large trees can crack the pool's foundation as the root system develops, so be sure to choose a tree that will not outgrow your pool area.
Things You Will Need
Concrete

Shrubs, groundcover and trees

Landscape timbers

Boulders

Gravel or lava rocks

Flowering vines
Tip
Consider planting flowering vines along your fence to provide a colorful backdrop for your plant beds.
References