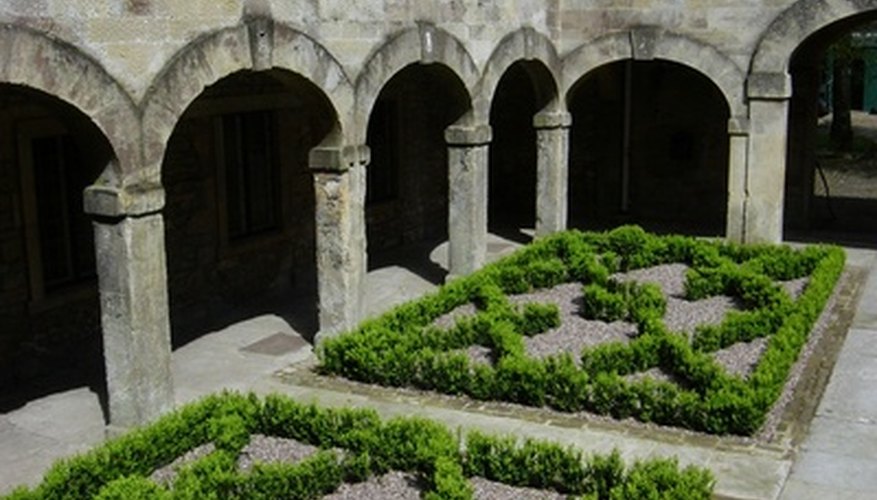 From showy flowers to autumn berries, shrubs add color and character to any landscape. Shrubs come in all shapes and sizes and many are drought resistant, low maintenance and slow growing. When designing a garden using shrubs, keep in mind your final garden design and plan accordingly.
Measure the entire garden space and draw the garden space onto the graph paper. Begin by outlining the outer edges of your yard.
Walk the site and make note on your paper of any areas that are noticeably higher or lower. Lower areas will pool water during a rainstorm, which can cause root rot of certain hedges. The lower areas will either need to leveled or filled with shrubs that can tolerate pooled water.
Decide the type of shrub beds you intend to create. Straight-line beds create a formal appearance and are typically done with thick shrubs. Curved edge beds create an informal look and work well with wild flowering shrubs. Island beds are surrounded by grass and create a floating garden. If you are on a hill, consider using some bricks or flagstone to create a terrace garden using shrubs alongside ground cover plants such as lantana.
Visit your garden center and decide which shrubs and complementary plants you will use. Be sure to make note of the space each plant requires for healthy growth. Also, if you prefer a low-maintenance garden, inquire about slower growing and drought tolerant plants. Examples of hearty, slow growing shrubs include abella, barberry and boxwood, all of which have dwarf varieties.
Add the desired shrubs into your planning graph. Use circles for round bush style hedges and squares for classic hedges. Be accurate in your drawing by including the recommended spacing and taking the average growth size into account. Get an idea of color scheme by coloring each bush the color of its flowers. This will ensure your hedge beds blend well.
Things You Will Need
Tape measure

Pencil

Graph paper