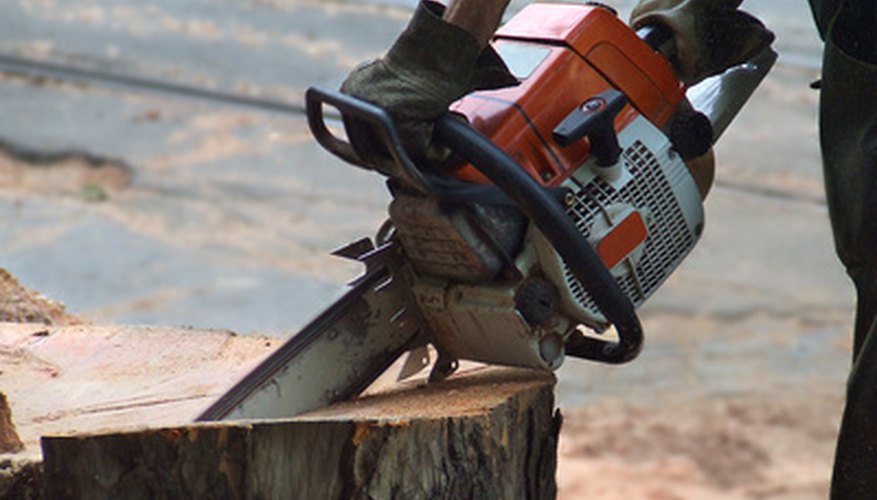 Stihl is a leading name in power tools, particularly its line of chain saws. A chain saw is a saw with a chain with sharp teeth that sits astride a bar. One component on your chain saw that helps it to run efficiently is its oiler.The oiler automatically feeds oil to your saw blade in intervals via a pump. If your oiler stops working, your blade will not work as effectively.
Remove the spark plug wire on your chain saw.
Remove the bar nuts with a wrench.
Loosen the bar tensioner screw with a flat-head screwdriver. Slip the chain off and remove your chain saw's bar.
Remove the oil fill cap and drain the oil into a pan.
Locate and remove the C-clamp that holds the clutch assembly in place. Once you have removed the clamp, also take off the sprocket, clutch drum and needle cage.
Take off the clutch using the clutch removal tool. Turn the tool clockwise to remove the clutch, as the clutch on your Stihl chain saw has left-handed threads.
Remove the two screws holding the oiler pump in place and then pull the pump off of the crankshaft. Slide the new bar oiler in place on the crankshaft. Replace the two oiler-pump retaining screws.
Replace the clutch along with the needle cage, clutch drum and sprocket. Also replace the C-clamp.
Fill the oiler through the oil cap.
Reassemble your chain saw bar and blade.
Things You Will Need
Wrench

Screwdriver

Oil pan

Clutch removal tool
References