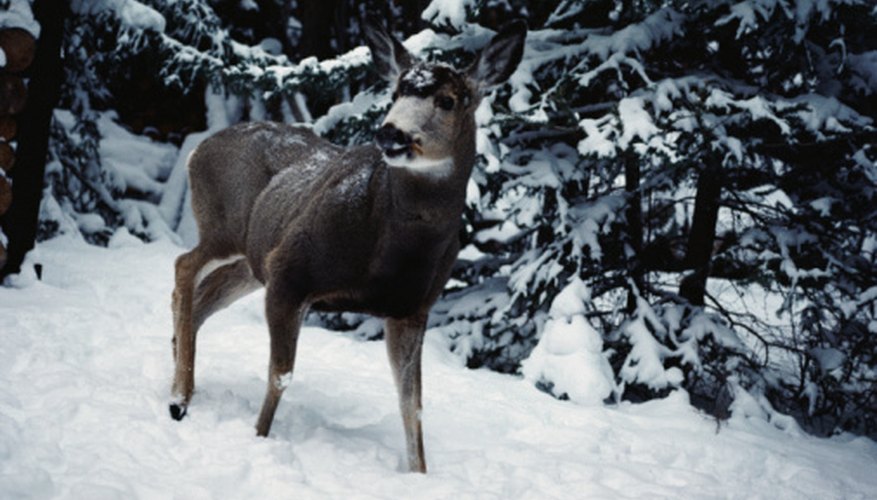 Jupiterimages/Photos.com/Getty Images
Fast-growing evergreen trees are an ideal choice for many landscaping requirements, particularly for screens, hedges or windbreaks. Unfortunately, in areas with a high deer population, evergreens can be problematic, as they are a common food source for deer. Some fast-growing varieties, however, prove to be highly resistant to deer browsing.
Norway Spruce
One of the fastest growing varieties of spruce, the Norway spruce (Picea abies) grows to a height of 60 to 80 feet, with a 25- to 30-foot spread. It is a popular ornamental tree in urban environments, having a pyramidal form with a strong central leader, horizontal side branches and vertically pendulous crown branches. Rutgers New Jersey Agricultural Experiment Station recommends it as a landscape plant seldom severely damaged by deer.
Green Giant Arborvitae
Green Giant arborvitae (Thuju standishii x plicata 'Green Giant') is a deep-green evergreen that grows in a pyramidal to conical form. It has a very fast growth rate and can grow up to 3 feet a year under good conditions, reaching a height of 50 to 60 feet, with a 12- to 20-foot spread. According to the Arborday Foundation, Green Giant arborvitae has greater resistance to deer that most arborvitaes.
Japanese Cedar
Japanese cedar (Cryptomeria japonica) is a fast-growing evergreen that can reach a height of 40 to 60 feet, with a spread of 8 to 12 feet. It is listed by Rutgers New Jersey Agricultural Experiment Station and by West Virginia University as being seldom severely damaged by deer. Japanese cedar has a conical form and bluish-green foliage of flattened, wedge-shaped leaves.
American Holly
American holly (Illex opaca) is a popular tree for landscaping. Its berries and spiny leaves are often used in holiday decorations. It received the Gold Medal from the Pennsylvania Horticultural Society in 2001 for its resistance to deer browsing, among other notable qualities. It is a medium-sized evergreen with a pyramidal form. American holly grows approximately 10 inches a year and reaches a height of 30 to 50 feet.