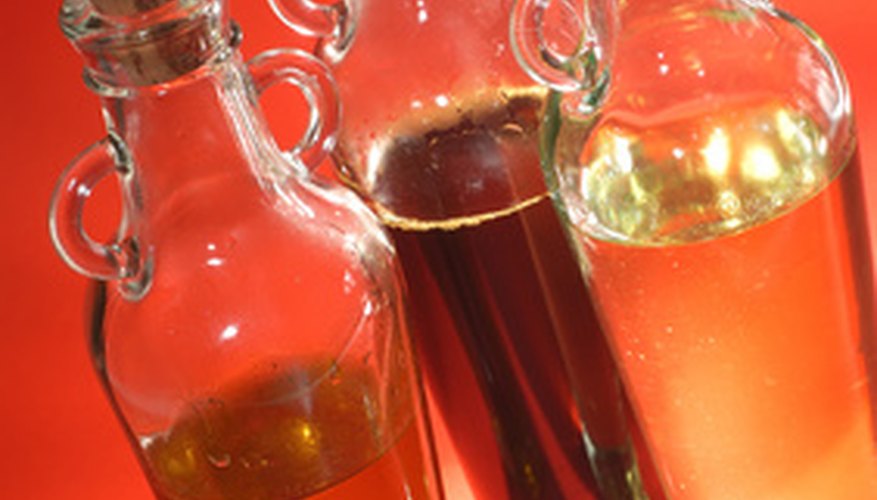 three sorts of oil image by Tomo Jesenicnik from <a href='http://www.fotolia.com'>Fotolia.com</a>
Two things happen to wood over time. It either dries out or it becomes saturated with too much water. Either condition causes problems. One way to prevent wood from drying out, and to keep it from soaking up too much moisture, is to regularly treat the wood with mineral oil. When purchasing a mineral oil for use on wood, especially wood that is in the home, it is best to purchase a food-grade mineral oil. This is especially important if you plan to use mineral oil on something like a butcher block.
Sand the wooden item if necessary. Depending on the condition of the wood, start with a course sand paper, such as a 60- or 80-grit paper, and proceed to finer and finer grades of paper, all the way up to 400-grit, depending on the smoothness of the surface that you are after. If a smooth surface is not an issue, you may skip sanding.
Wipe the wood down with a clean cloth to remove any surface dirt or dust.
Dampen a clean cloth rag with food grade mineral oil and wipe it liberally on the wooden item. Allow the mineral oil to soak into the wood for one hour and then re-examine. If the oil has soaked into the wood, wipe on another coat of oil and leave for 24 hours. If the mineral oil has not soaked completely into the wood after one hour, wait 24 hours and check again.
Rub your finger over the wooden surface after the oil has sat on the surface for 24 hours. If your finger comes away oily, the wood has soaked up all of the mineral oil it is going to and you need to be wipe it with a clean cloth and then buff with a second clean cloth. If your finger is completely dry, wipe on another coat of mineral oil and allow it to sit for 24 hours and then wipe off any excess with a clean cloth and then buff the wood with a second clean cloth.
Wipe on additional mineral oil on a monthly basis or more often if the wood is washed or subjected to heavy use.
Things You Will Need
Sandpaper (various grits)

Cloth

Food-grade mineral oil
Warnings
Do not use vegetable-based oils on your wood, as these may become rancid over time.

Lay oily rags flat (not wadded up) and allow to dry completely to prevent possible spontaneous combustion.