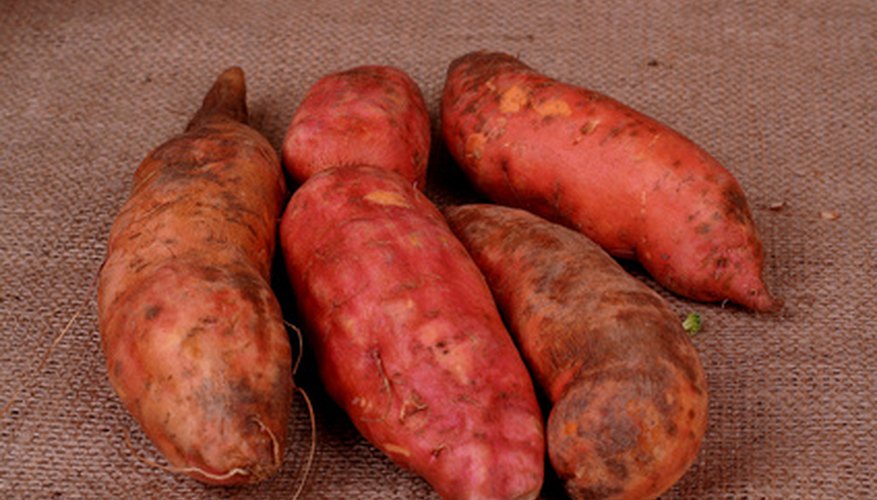 The sweet potato can be enjoyed any time of the year, even though they are a holiday staple. A healthy food choice, sweet potatoes are rich in antioxidant vitamins A and C, as well as vitamin B6. These vitamins are anti-inflammatory and help fight heart disease, cancer and arthritic conditions according to the World's Healthiest Foods encyclopedia. Sweet potatoes can be substituted for white potatoes in any recipe, including fries and potato chips, and are now being added to numerous restaurant menus. To enjoy a healthy sweet potato snack at home, make a batch of sweet potato straws.
Wash the sweet potato under running water with a vegetable brush. Do not peel the potato, as World's Healthiest Foods reports that the healthy antioxidant activity of the potato is 3.2 times higher in the skin than in the meat.
Set the sweet potato on a cutting board, take a sharp knife and cut the potato in half lengthwise.
Set the halves, flat side down, on the cutting board, and continue cutting into lengthwise strips. Keep cutting the strips until they are approximately 1/8 inch thick.
Put the sweet potato straws in a bowl of ice cold water, and allow them to soak for 30 minutes, then drain the water off the potato straws.
Spread the potato straws out on paper toweling to dry for 20 to 30 minutes. At this time, preheat the oven to 350 degrees Fahrenheit.
Spray a cookie sheet with non-stick baking spray, and place the potato straws in a single layer on the tray.
Add spices to the straws at this time if desired. Use cinnamon for a sweet taste, or garlic and cayenne for a spicy sweet potato straw.
Bake for 10 to 15 minutes. Due to the variances in ovens and oven temperatures it is important to keep an eye on your sweet potato straws. They are very thin so they will cook quickly. Once you see them start to brown, test them for doneness and remove from the oven.