There are variety of snow removal options and snowblowers remain an attractive alternative to snow shovels. There are two primary types of snowblowers: single-stage and two-stage, also known as dual-stage.
Single Stage Snowblowers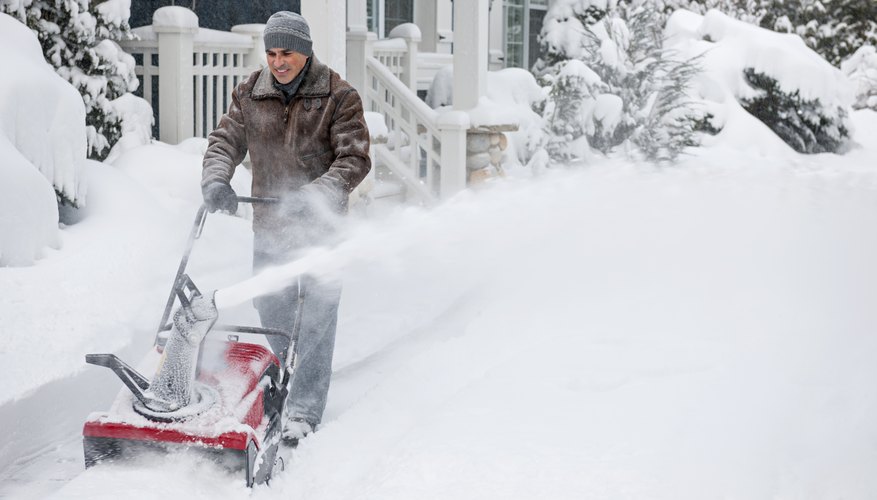 Single-stage snowblowers are usually gas powered, but electric models do exist. A single-stage snowblower uses an auger-type assembly. The auger typically spins, chips and collects ice and snow and then throws it out of a discharge chute, all in a single stage. Single-stage blowers vary in width from 12 inches to 22 inches. Snow can be thrown 25-35 inches. Single-stage snowblowers are generally used for light residential use in lighter snow removal situations.
Dual Stage Snowblowers
Dual-stage snowblower models have engine-driven wheels or tank-style tracks. The front of the snowblower rides on skids that control the clearing height of the auger. Two-stage, gas-powered snow blowers have four-cycle engines built to operate in extreme cold. Snow is brought inward by slow-turning augers and is then pushed toward a high-speed impeller, which in turn, throws the snow out of the discharge chute, using two stages, instead of one. Dual-stage snowblowers come with a wide array of options and are intended for residential or commercial use in heavier snowfall areas.
Main Differences
The main difference between single-stage and dual-stage snowblowers is a spinning impeller that is located behind the collection auger. The impeller acts like a pump. Snow is collected and then churned by the auger and pushed up through a discharge chute at a higher speed. The dual-stage moves more snow at a faster speed and throws the snow a greater distance. The clearing width is larger in the dual-stage, ranging from 20 inches to 36 inches.