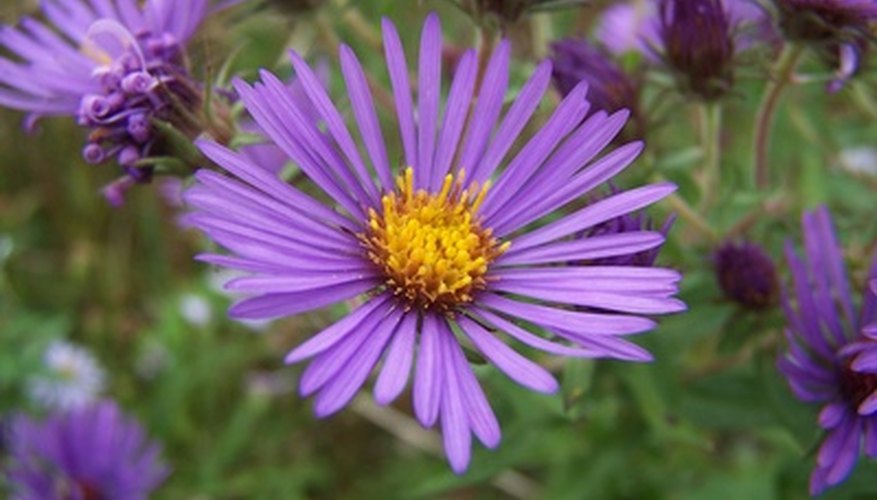 November brings to the garden shorter daytime light and cool nighttime temperatures. Many flowering plants thrive in November and enjoy the often inhospitable growing environment and conditions. Grown in a wide range of shapes, sizes and blooms colors, November flowers provide color and warmth to areas of the garden like perennial beds, borders and edging along trees and shrubs. As November often creates colorless landscapes, November-blooming flowers help to combat the dreary landscape with their vibrant colors and foliage.
Stonecrop
Stonecrop (Sedum 'Autumn Joy') is a clumping perennial plant with a moderate growth rate. It grows 1 to 3 feet tall and wide and blooms from August into November. The succulent, gray to green foliage holds the star-like, long-blooming deep pink to copper, 3-to-6-inch-wide, flattened heads or flowers that attract butterflies to the garden. The name stonecrop is in reference to its frequent sightings along stony ledges and rocks. It grows best in full sun to part shade and well-drained, fertile soil that is moist but tolerate dry soil. Plant stonecrop in USDA zones 3 to 11.
Tatarian Aster
Tatarian aster (Aster tataricus) is a perennial flower that begins blooming in late September and lasts into November, creating a long blooming season. It has a spreading growth habit and grows 6 to 10 feet tall and 1 to 3 feet wide, making for a commanding landscape presence along the back of a garden bed or border. The 1-inch-wide, daisy-like, lilac blooms on Tatarian asters attract monarch butterflies to the garden. Versatile, Tatarian aster tolerates a wide range of soil types and is frost tolerant. They grow best in full sun to part shade and well-drained soil. Tatarian asters thrive in humidity and heat and readily adapt to less than ideal growing conditions like wet clay or dry sandy soil. They are suitable grown in USDA zones 3 to 9.
Saffron Crocus
Saffron Crocus (Crocus sativus) is a November-blooming perennial flower with a clumping growth habit and moderate growth rate. Low-growing, it grows less than 6 inches tall and wide, making for an ideal flower to grow along the front of a border. The small, lilac flowers on saffron crocus are veined in deep purple and bloom 1 to 5 flowers per plant. Each flower opens above the foliage to create a showy display. Saffron crocus grows best in full sun and well-drained, moderately fertile to poor soils. They also prefer hot summers. Plant saffron crocus in USDA zones 5 to 8.