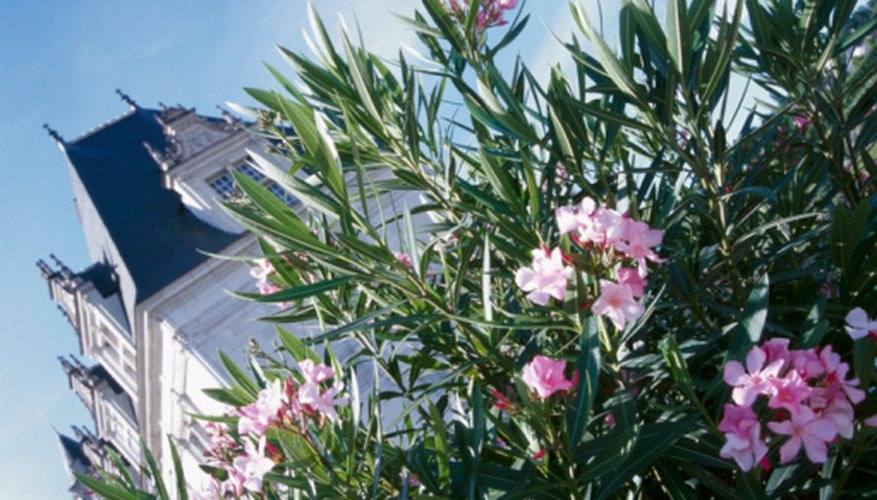 Oleander (Nerium oleander) is a native evergreen shrub of northern Africa and southeast Asia that can reach 20 feet tall. It produces abundant white, pink, salmon, red or yellow flowers. Oleander is a plant that thrives in warm climates and in bright sun although it can also grow in partial shade. Its leaves grow densely on the plant, making it a good choice for hedges, accent plants and even in city gardens. It grows in USDA hardiness zones 8 to 10, generally throughout the deep South, in Florida and in Texas.
Dig holes for the oleander plants 2 or 3 times the size of the root balls with a shovel. Oleander root balls are generally 6 to 10 inches in diameter.
Add organic matter such as peat moss to the soil
Set oleander plant in the ground just after blooming and no later than September. Plant bushes 5 feet apart. For example, if you want a 20-foot hedge, set four plants at 5-foot intervals, to allow room for fast-growing oleander to fill in properly.
Fill in soil around plants. Create a 2 to 4 inch berm around the plants to hold in water.
Water plants thoroughly after planting. Provide supplemental watering of 1 to 2 inches per week during dry conditions.
Fertilize only if there are signs of poor nourishment, such as small leaves, light green coloring or thin flowering. If necessary, use a balanced fertilizer in early spring and then again in early fall.
Stake plants to keep them in an upright position evenly along the hedge line, if necessary.