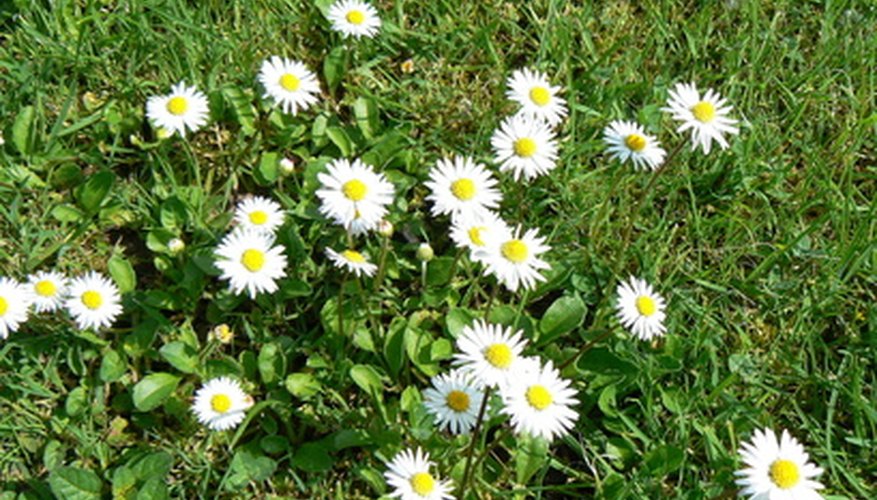 daisy image by Alison Bowden from <a href='http://www.fotolia.com'>Fotolia.com</a>
To kill perennial weeds, you need a product called glyphosate. Glyphosate, N-(phosphonomethyl) glycine, can be purchased by itself or as an active ingredient in many name-brand herbicides. As with all chemicals, it is important that you fully read the product label and adhere to all safety recommendations before you mix the glyphosate with water to apply it to your weeds. This will also ensure that your weeds are treated correctly so you can get the best results from the herbicide.
Put on a long-sleeved shirt, long pants, chemical-resistant gloves, goggles and a face mask. This is necessary to protect you from eye damage, skin irritation and respiratory distress that could occur if the chemical comes in contact with your body.
Pour 13 oz. of glyphosate into a backpack sprayer.
Add 1 gallon of water to the glyphosate in the backpack sprayer.
Put the lid on the backpack sprayer, and shake the sprayer to combine the two ingredients. You now have enough glyphosate to cover 400 square feet. If you need to cover a bigger space, multiply the ingredients.
Aim the backpack sprayer at the leaves of the weeds you want to kill. The chemical is absorbed through the leaves, not through the roots. Spray until all of the weeds are soaked.
Things You Will Need
Long-sleeved shirt

Long pants

Chemical-resistant gloves

Goggles

Face mask

13 oz. glyphosate

1 gallon water

Backpack sprayer
Tip
Keep pets and other family members indoors when applying this product. Do not allow them outdoors until the glyphosate has completely dried.
Warning
If you encounter a medical emergency during the use of this product, call 1-800-308-5391.
References