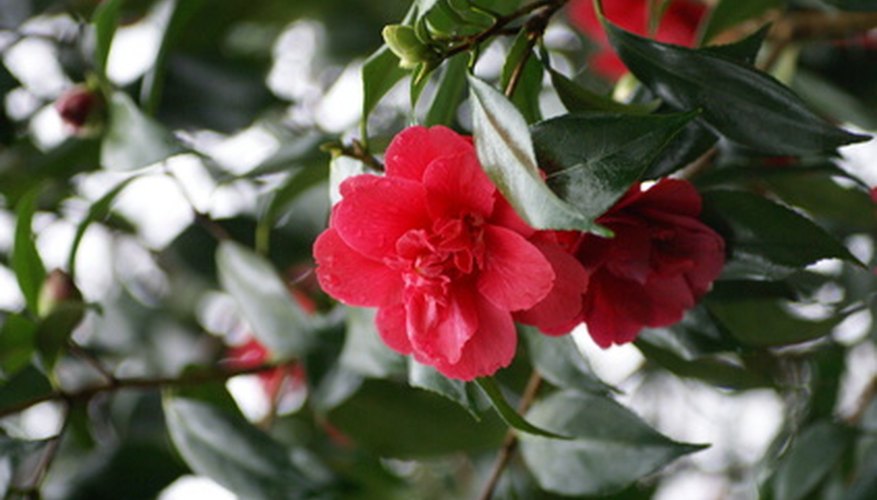 Camellias are shade-loving plants that produce colorful blooms during the winter. They grow primarily in warmer climates. When given proper attention and fertilization, camellias can reward you with beautiful blooms year after year to brighten the winter months.
When to Fertilize
Camellias have a dormant season and a growth season. During the dormant season, camellias are developing their blooms and blooming. This dormant season will vary depending on your location, but a typical season is from early September to April. Camellias are not receptive to growth fertilizers during this time. After the camellia blooms and the growth buds lengthen and feather, the plant enters the growth phase. This is the time to apply growth fertilizers.
Frequency
Apply the first growth feeding at the start of new growth, in late March or early April. Follow with two additional feedings at six to eight weeks intervals. Don't feed during excessive heat. Postpone your feedings until temperatures have eased. Camellias should not be fertilized too close to the beginning of the dormant season. If your dormant season typically begins around September 1, apply your last growth feeding four to six weeks prior to that date. Camellias do not need fertilizer during the dormant season. Dormant season fertilizers are used by exhibitors to improve the quality of blooms.
Tips
Choose a fertilizer designed for camellias. To fertilize your established camellias, rake the mulch away from the plant back to the drip line. Apply the fertilizer around the base of the plant and water thoroughly. Rake the mulch back around the plant.
Fertilizing your camellias will produce healthy plants resistant to disease. Consult your local Extension Service or camellia growers in your area for specifics about growing and fertilizing camellias in your locale.