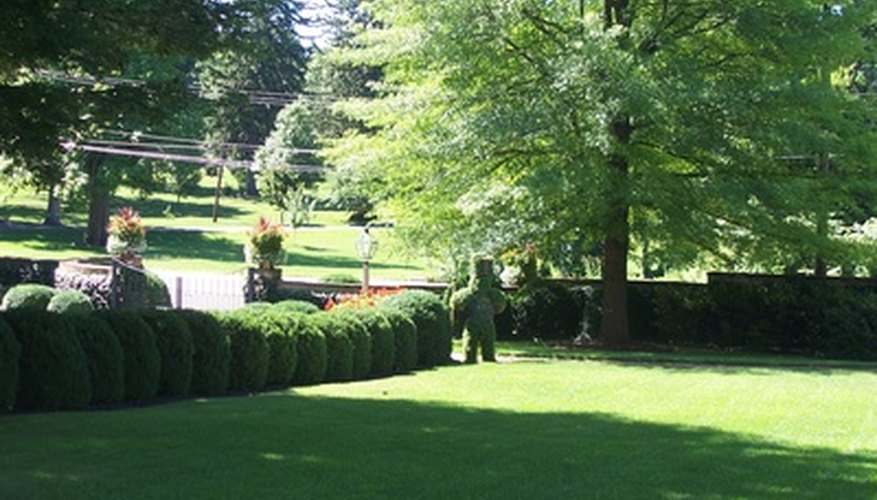 Specialized gardening tools ease the pain of cleaning a yard. From the trees to the grass, there is a tool available for every gardening task. The proper tools create efficient and effective gardeners. By matching the equipment to the task, the job of cleaning a yard becomes much easier. Consider the purpose and design of the tool needed when choosing tools for tasks in the garden and yard.
Leaf Rakes
Most people associate leaf rakes with falling leaves. While this is the primary usage for rakes, a quality leaf rake can be used in many yard cleaning applications. For example, a rake can help remove the piles of weeds along a freshly weeded flowerbed.
Raking requires vigorous activity that can cause strain and stress on the back. Select a rake with a comfort grip handle. Ergonomically correct rakes feature contoured handles that help eliminate pressure on the neck, back and shoulders. Many rakes also feature clog-free design that eliminates sticking leaves.
Power Leaf Blowers
Power leaf blowers come in many styles and sizes, both gas and electric. Professionals tend to rely upon backpack-style blowers, while homeowners frequently use hand-held models. Blowers quickly remove leaves and grass clippings from hard surfaces and grassy areas. However, if leaves are damp or wet, they will not blow. It can also be tricky to maneuver the leaves into a neat pile using a blower.
Turf Vacuums
Professionals use turf vacuums on golf courses to remove pine needles, leaves and debris from the turf. Residential versions of the turf vacuum are designed for the residential-sized yard. Most feature a pull-type construction, similar to a household vacuum cleaner.
Leaf Scoops and Collection Bags
Leaf scoops and collection bags help clean up the leaves from a yard. Leaf scoops resemble a rake with a short handle, used to help grab piles of leaves. Large varieties, often called leaf caddies, can pick up up to 20 gallons of garden waste at a time. Collection bags range from simple reusable bags to collapsible rolling garden carts. Many adapt easily for usage with leaf bag holders, which hold open leaf bags while you work. Both scoops and bags help in the movement of leaves from the yard to a dumping or composting area.
Power Tools for Trees and Shrubs
Many power tools aid in the grooming of trees and shrubs in the yard. Hedge trimmers can help trim or completely shape the bushes and shrubs on a property. Reciprocating saws come in cordless models, making them convenient for trimming trees or tall shrubs. Simply add a pruning blade, which is specially designed for cutting through branches.
Large branches on trees or shrubs may require the usage of a chainsaw. There are several sizes and styles available in chainsaws, including gas-powered, cordless and electric.