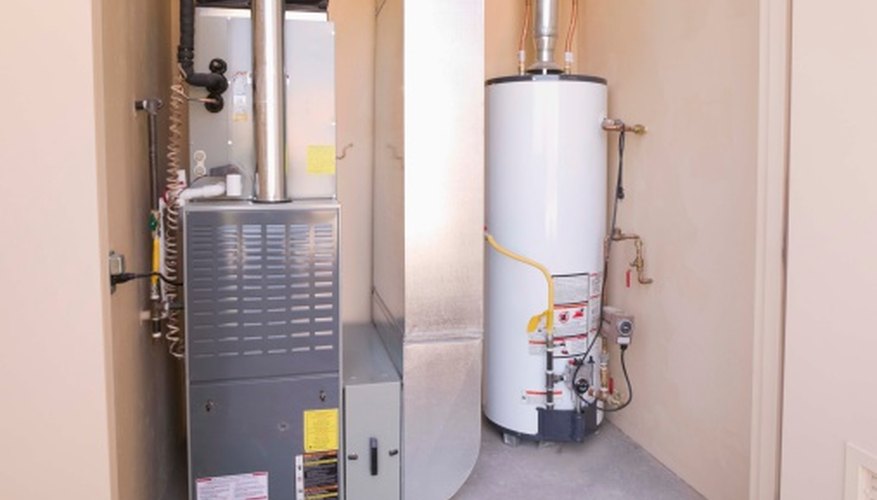 Those looking to purchase a furnace need to weigh a variety of issues, including how much money they are willing to spend, what kind of brand name they trust, and how big of an area they are looking to keep warm. Furnaces use gas, oil and propane to provide heat. Installation fees vary. While some furnaces are rated higher than others, only the consumer can decide which type of furnace is best for him.
Highest Rated
According to Consumer Reports, gas furnaces that have a 90 to 92 percent AFUE annual fuel utilization efficiency (AFUE) rating are the best to install. The installation cost has an estimated price of $3,000 as of November 2010. Consumer Reports has rated the American Standard/Trane and Rheem/Ruud the most reliable brand names for these types of furnaces. Furnaces with a 90 percent AFUE rating waste 10 percent less heat than lower rated designs. These types of furnaces also use less fuel, saving the consumer money over time. However, installing this furnace may require a new venting system to be installed as well.
Higher Priced
Consumers looking to spend more money may purchase a multi-stage modulating gas furnace with a 92 to 97 percent AFUE rating. Consumer Reports agrees that this type of furnace creates the most consistent level of temperature within a room or home. Multi-stage furnaces utilize variable speed blowers as compared to single stage furnaces that cycle on and off. The installation price for a multi-stage furnace starts at $3,500 as of 2010. Choose a multi-stage furnace designed by Rheem Prestige, Trane, Bryant/Carrier, Lennox, Tempstar or York. Although these furnaces are relatively cheap to use, they may require a new venting system to be installed.
Lower Priced
Gas furnaces that have an 80 percent AFUE rating are ideal for those looking to install a furnace at a lower cost. The installation cost of this furnace is $2,000 as of 2010. These furnaces are recommended for consumers who live in milder climates or for those who may not occupy their home for a period of five years. These furnaces are not as energy efficient as 90 percent AFUE models and also waste more fuel than more expensive models. Oil-burning furnaces are an alternative to gas furnaces but provide lower AFUE ratings. Oil-burning furnaces are also available in multi-stage modulating versions.
Resources