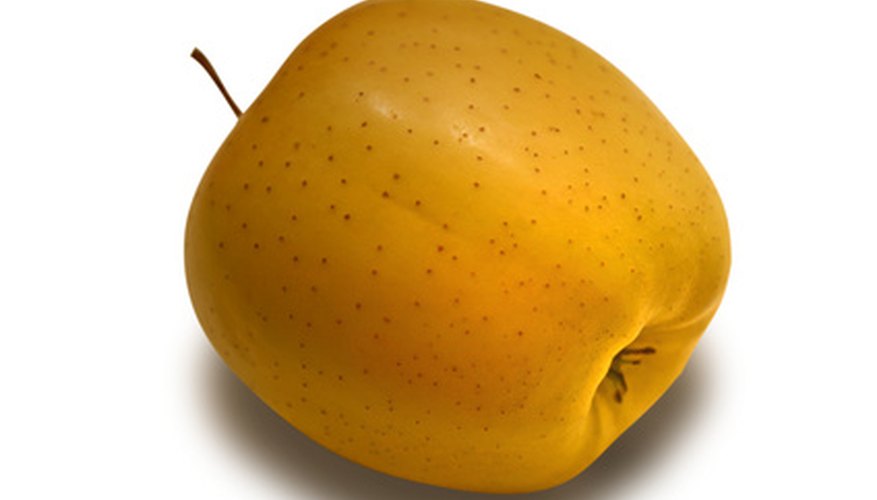 Compote, a cooked fruit and sugar preparation, typically has a more liquid consistency than jams and jellies. This makes it perfect for serving on top of ice cream or cakes. Golden delicious apples make a golden-hued, luscious compote perfect for serving over your favorite desserts or for filling pies and tarts. This recipe yields approximately 2 cups of apple compote and provides an ideal way to use leftover apples from your home orchard. Double or even triple the recipe if necessary, but freeze any of the compote not used within a week.
Peel the apples, remove cores and cut into 1/2-inch-thick slices. Dip the pieces in lemon juice to increase flavor and ward off discoloration. Place the apple pieces in a large saucepan.
Add the granulated sugar, 4 tablespoons lemon juice, ground cinnamon, unsalted butter and 1/2 cup water to the apples in the saucepan. Stir to combine.
Bring to a boil over medium-high heat, and then reduce heat to medium. Cover and simmer until the apples are tender but not mushy, about five minutes.
Uncover and cook until most of the liquid evaporates, stirring constantly. This usually takes about 10 to 15 minutes.
Remove the pan from the heat and allow the mixture to cool slightly before serving. Store leftover apple compote covered in the refrigerator for up to one week.