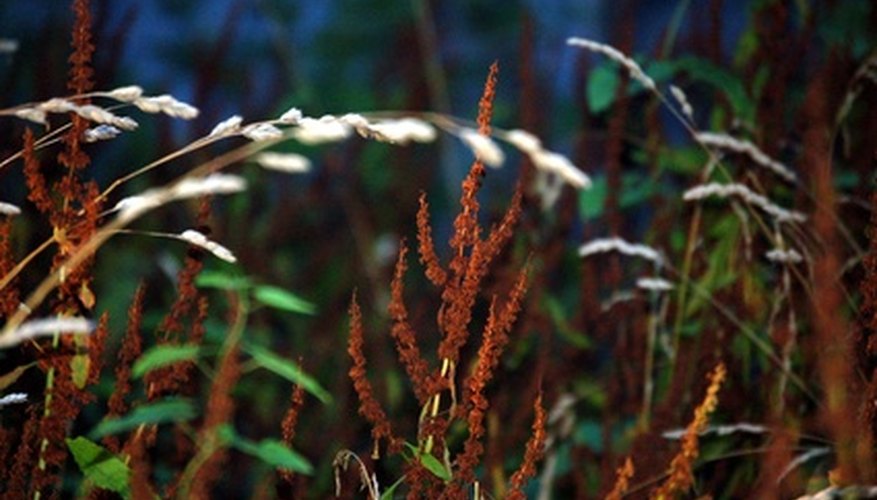 Roundup is one of the most popular herbicides. Homeowners as well as those who run commercial farms use this product to kill many types of plants that are considered weeds. Its active ingredient is glyphosate, which effectively causes the death of grassy weeds, broadleaf weeds, poison ivy and "tough brush," according to its manufacturer. However, it is important to follow the precautions stated on the label.
Keep Product Away From Children
The label on Roundup products advises consumers to keep this product away from children. It can cause irritation to the eyes if contact is made with them and it can also cause skin rashes due to contact. The New York Times advises to flush the eyes or skin with water for 15 minutes as soon as possible after contact occurs. Information from Monsanto, the manufacturer of Roundup, states the same advice.
Do Not Consume Roundup Orally
The product label also states that Roundup is poisonous if swallowed, although it does not specify what harm might result. The New York Times reports that effects of consuming glyphosate can include abdominal cramps, diarrhea, difficulty breathing, headache, nausea, vomiting, low blood pressure, general weakness and possible coma. If consumption occurs, do not induce vomiting, but seek immediate medical attention.
Use Proper Container for Storage
The label warns that a "highly combustible gas mixture" can occur if the product is used in galvanized or unlined steel containers, which will produce hydrogen gas that might flash or explode if it comes into contact with a flame of any kind. Both Monsanto and the University of California at Davis state that any fire caused by this product should be treated with water, alcohol foam or carbon dioxide.
Keep Roundup Away From Water and Food
The label warnings also state that you should not contaminate sources of water or seeds, animal feed and other foodstuffs by allowing this product to come into contact with them or by spilling it into ponds, lakes, rivers, bags of seeds or animal feeds. The Organic Consumers website states that Roundup has been found by independent scientific studies to be toxic to many creatures, such as beneficial insects, mammals, birds and earthworms, as well as the plants they rely on for shelter and food.
Do Not Reuse the Container
The label warns not to reuse the container for any other purpose because of the possibility of contaminating the substance placed into a used Roundup container.