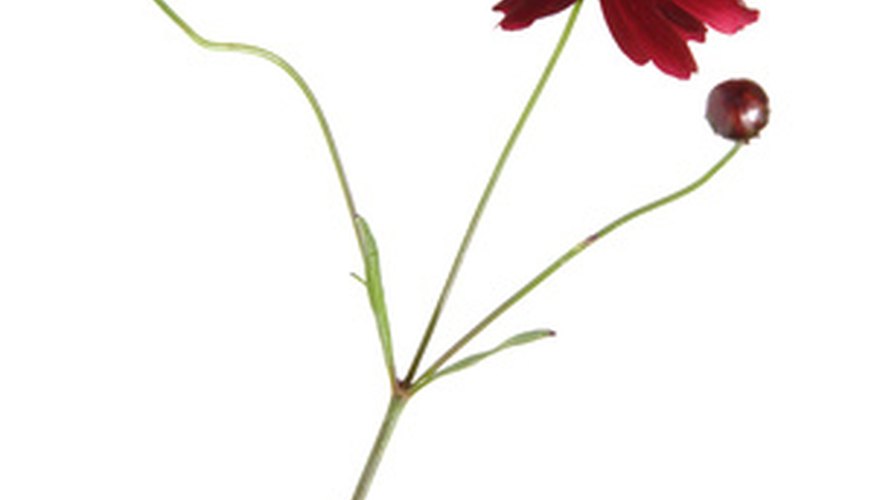 ruby-red wet coreopsis, isolated image by Tamara Kulikova from Fotolia.com
Coreopsis is a perennial flowering herb, prized for its delicate fern-like foliage, showy summertime color display and ease of cultivation. Coreopsis is hardy in U.S. Department of Agriculture Plant Hardiness Zones 4 through 9, but blooms more prolifically in the cooler zones. Coreopsis is often used as a border plant, spreading to create a lush and colorful ground cover. With proper care and protection, this hardy perennial can last for years in your garden.
Provide regular feed and water to the coreopsis until the flowering season has ended and the stems are drying and turning brown. After the first killing freeze, discontinue food and water to the plant.
Cut the stems of the coreopsis to 1 to 2 inches above the ground. Cover the cut stems with 2 to 3 inches of organic mulch to hold in heat and to prevent evaporative cooling from drying the roots excessively. Coreopsis plants grown in climates where the ground freezes for long periods will require a thicker layer of mulch.
Remove the mulch from the plants when there is no longer danger of frost. If the flower bed has become crowded, use a pitchfork to gently lift the roots and remove plants to thin the bed. This will inhibit pathogens such as mildew from infesting and destroying the plant. Apply granulated organic fertilizer. Reapply mulch and water to assist the plant in beginning its foliage and flower-production cycles.