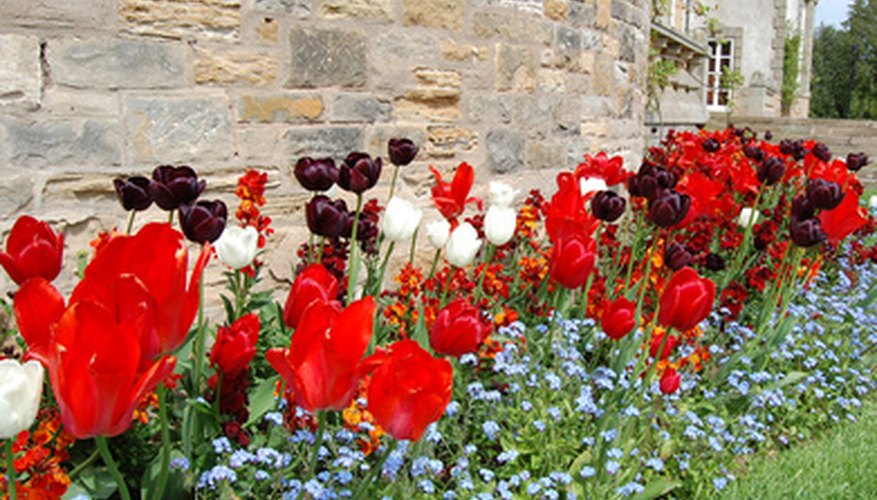 When planting a flower garden, soil preparation is key, particularly if you are planting a mixed bed of different flower varieties (as different types of flowers may need different soil preparations). Not only may your flowers' survival depend on the proper soil, but good soil can ensure that your flowers reach optimum growth and health. Preparing the soil properly can be done with some simple materials for landscaping and manual labor.
Test your soil with a testing kit from your local gardening store. Doing this before hand helps you prepare the soil properly for your flower garden, as it helps you understand what your soil needs or doesn't need, whether it's the acidity, moisture content or organic materials. Most plants require soil that is at a balance of 6.0 to 6.9 pH. After testing, add the necessary materials to your soil to balance out the pH in order to make your flower garden the healthiest it can be. For example, lime raises the acidity, while manure raises the alkalinity. You should know what flowers you are planting at this point so you can bring the growing requirements from the varieties into your soil additions.
Till the soil with a rototiller or a sturdy rake, about 6 inches deep for packed soils and 4 to 5 inches deep for more loose loamy soils. Discard any rocks, broken roots, dirt clods, weeds and grass. Depending on what you need to add to the soil in step 1, you may need to do this step first.
Mix compost into the flower bed about 3 to 4 inches deep to enrich it with even more nutrients before planting your flower bed.
Rake over the flower bed to even out the soil before you plant the flowers. This will create a solid even ground and let all the materials you added settle.
Things You Will Need
Gardening gloves, if desired

Soil testing kit

Organic materials, i.e. lime, sulfur, manure

Rototiller

Sturdy rake

Compost