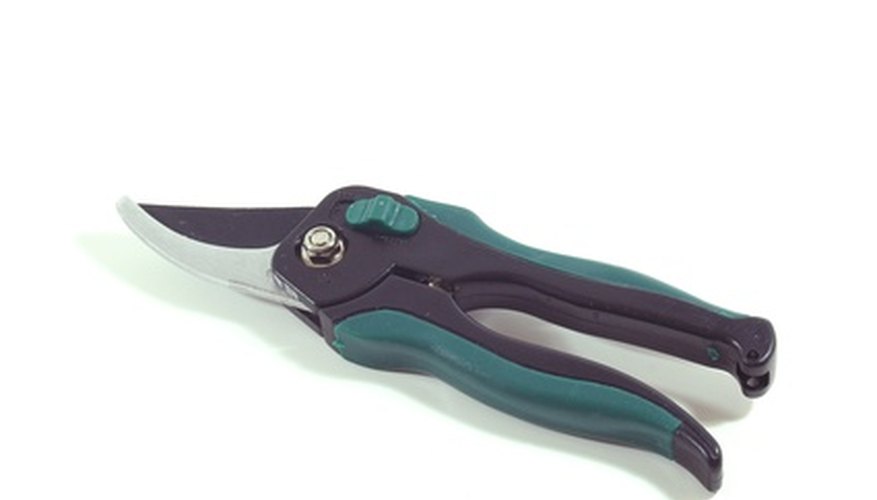 Glossy abelia shrubs provide year-round color to your landscape. Reddish-green foliage remains on the plant in mild climates, while in areas with cold winters, much of the foliage falls off like a deciduous shrub. Abelia flowers in spring, producing pink or white trumpet-shaped flowers. Proper pruning helps the glossy abelia maintain its shape without inhibiting the flowering period of the plant. Light pruning is often sufficient in maintaining the shape, size and health of the abelia shrub.
Trim dead and damaged wood in late winter or early spring before the abelia begins producing new growth. Cut out damaged branches from the base of the shrub or cut them flush with the nearest healthy branch with a pair of pruning clippers.
Cut off overgrown branches with a pair of pruning loppers in spring before new growth begins. Cut the branches back to the nearest set of leaves or leaf nodes at the height you wish to prune the branch to.
Prune away up to one-third of the abelia if it is severely overgrown. Trim the top and sides of the shrub until it is the desired height and shape.
Water the abelia thoroughly after pruning, moistening the soil to at least a 6-inch depth. Apply a 2-inch layer of compost around the shrub or apply a general-purpose fertilizer at the rate recommended on the package to replenish soil nutrients and encourage fresh growth on the newly pruned shrub.