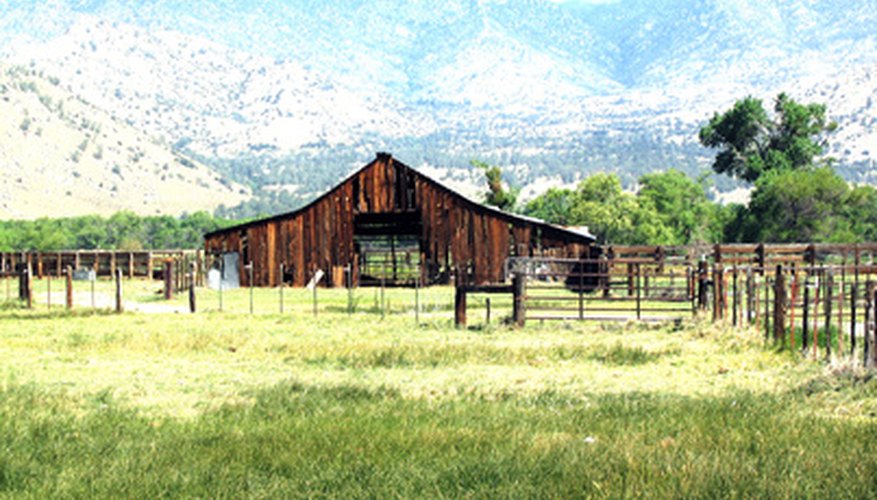 "Keeping it natural" is the motto for most landscapers when trying to reflect specific styles in their landscaping designs. Home landscapes that evoke a sense of place or a certain style typically use native materials for hardscaping, in paths and garden structures, and native plants for the softscape. Staying true to your region's climate and geography produces the best chance in creating a successful ranch landscape.
Structural Elements
Structural elements refer to the man-made or large features of the garden. These are the jumping-off spot when beginning a landscape plan. Use a long, bunkhouse shaped structure for a garden shed. For fencing, use split rails, timbers or a white picket fence. Landscape designers for the Dermody Ranch in Reno, Nevada, pictured at the Inland Architect Magazine website, included a large pond and an orchard as part of their ranch plan. For patios and paths, use native crushed stone or native stone pavers.
Plants
After determining man-made features, think of the trees that also act as main structural elements for the landscape. Give preference to trees that are native in the area. They will blend in harmoniously to the larger landscape and thrive in the local climate and soil.
Choose plants and tall ornamental grasses that are native in the area. Another way to evoke a ranch feel is to plant in large swaths, which echo the large hills or fields in ranching country. "Design Ideas for Home Landscaping" recommends planting drifts of black-eyed Susan flowers and the ornamental grass, gracillimus, in a Midwest ranch garden and cacti, yucca and other drought-tolerant, heat-loving plants in the Southwest.
Decorative Elements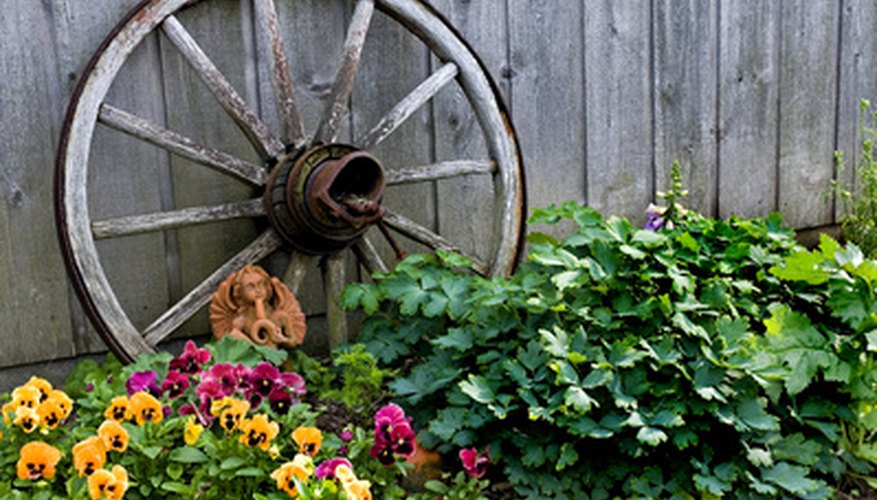 Add two or three decorative items within the landscape to maintain a ranch-feel. Begin with a large, rustic, wood entry arch typical for ranch. Use a small timber sign with a hanging wooden name plaque. Add a water pump or small windmill if your landscape plan includes a water feature and hang a triangular dinner bell on the porch or a pair of spurs against a wall. For a patio, use a fire pit made from native materials like adobe or use a ranch-like item such as a giant, black cooking-kettle. Finally, it's typical to see old ranch items strategically placed at the edge of a field or the corner of the property. Use wagon wheels, an abandoned buggy or a piece of ranch equipment covered with an interesting layer of rust.