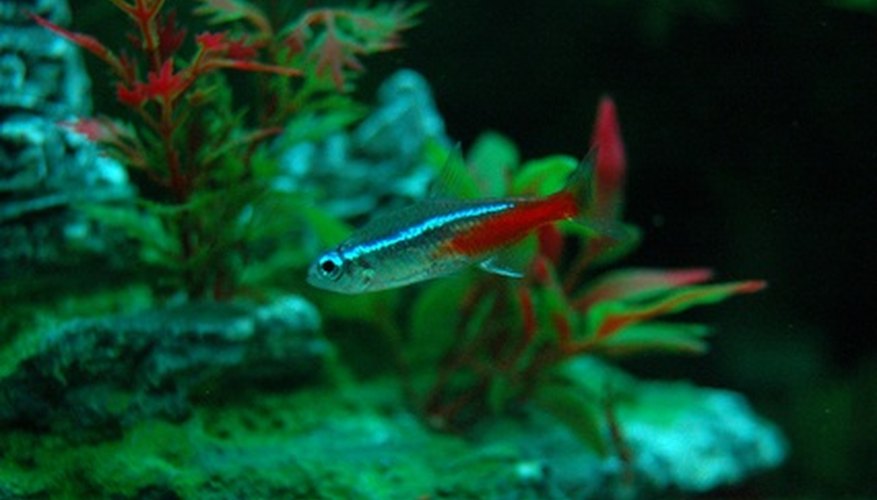 Real freshwater plants look a lot better than cheap plastic ones, but maintaining them can be confusing to novice aquarium enthusiasts. When freshwater plants die in aquariums, they pollute the water. Proper plant care is not challenging but does require a time commitment and cleaning. Well-tended plants make fish happier, which brightens their colors and reduces their stress levels. Freshwater plants are a natural part of the aquarium ecosystem, and learning how to care for them will reward both you and your fish.
Place a base fertilizer that's designed for aquatic plants at the bottom of the aquarium tank, then cover this over with fine gravel or sand. Follow label directions. The fertilizer will provide nutrients for the freshwater plants to keep them healthy and growing.
Plant freshwater plants in the sand so their roots are covered.
Provide adequate lighting to keep the plants happy and growing. Monga Bay recommends two to three watts of fluorescent light per aquarium gallon and suggests replacing the light bulb every six months. Leave the light on for 12 hours a day.
Monitor the pH and hardness levels of your water. According to Monga Bay, plants do best in a pH of 6.5 to 7.2, or fairly close to neutral, and with a water hardness of 4 to 12 dH. Amend your water by filtering it or using distilled water.
Keep your fish tank free of algae by cleaning it with an algae scraper. Change the filter regularly, following the manufacturer's recommendations for your type of filter. This ensures the water is clean enough for your plants.
Clip back plants whenever they grow too long, using scissors.