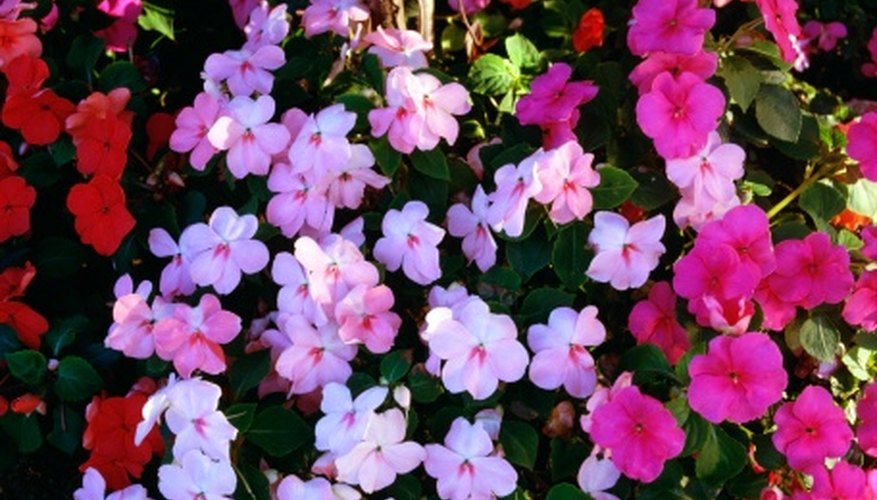 Don't dismiss a shaded area in your yard and think that it can't become an eye-catching garden filled with color. It is a common misconception that flowers only grow in locations that receive ample sun, as there are several types of flowers that flourish with minimal amounts of light. So turn that shady spot into an attractive garden.
Impatiens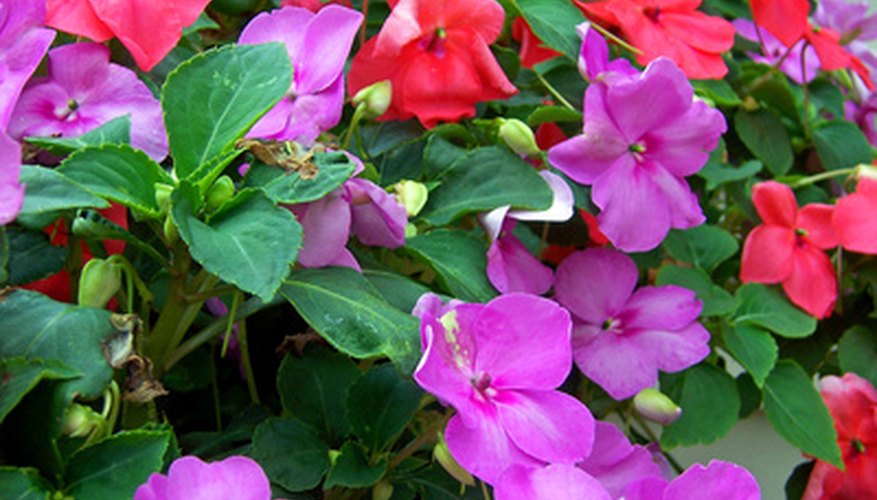 Impatiens are some of the most popular annual plants in the United States due to their brilliant color and their ability to thrive in light shade. There are several species of these flowers, including New Guinea, Busy Lizzie and Balsam. Their foliage is typically tear-drop shaped, smooth and medium green in color. Their flowers bloom at the end of the stems and generally range in size from 1 to 2 inches across. Bloom colors include white, red, light pink, salmon, light purple, orange and maroon, and can also be variegated with two colors. They can grow anywhere from 9 to 30 inches tall, and spread just as wide. Plant these flowers in an area that receives partial shade and has nutrient-rich, moist soil.
Coral Bells
Coral bells get their name from the bell-shaped pink, red and lavender flowers that they produce. These perennial plants are known for their attractive foliage, which comes in a number of colors, including purple, copper, black and chartreuse, and appears in the beginning of the summer and continues until the beginning of fall. The leaves of these plants grow in low mounds and the flowers appear on shoots that stick out of the top of the plant. They do best when planted in partial to full shade.
Lilly-of-the-valley
If you're looking for a ground cover plant to place in your shade garden, consider lily-of-the-valley. Two green leaves that range in height from 6 to 10 inches tall shoot up out of the ground and produce stalks of five to 15 small white, fragrant flowers in the late spring and early summer. After the flowers bloom, colorful red berries appear in the later summer months.
Bleeding Heart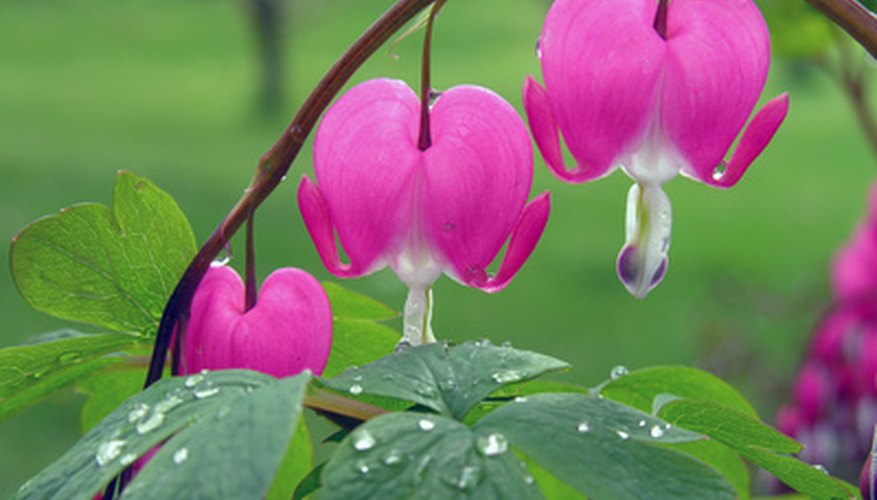 Bleeding heart plants also get their name from the flowers that they produce, which are heart shaped and are often pink to red in color, though some plants produce yellow and white blooms. The blooms grow on arched stems, along with green foliage, and can grow to be 6 inches to 2 feet tall. Bloom time for the bleeding heart plant is in the spring; however, in areas that have cool summers, they may bloom again. In order to successfully grow these plants, they need to be placed in an area with rich, well-drained soil that receives light to medium shade.