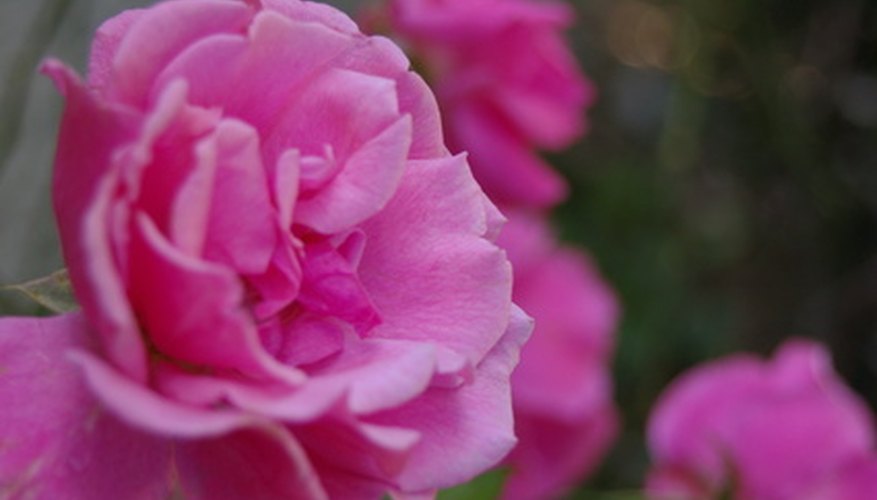 A rose trellis secures the bush or vine and encourages it to climb upward, creating a bright and colorful wall. Build a lattice trellis with wooden panels to support one or several rose bushes in your yard. Secure the trellis to a fence, wall or gate, or insert it into the ground. Paint the trellis panels a bright color and enhance the appeal of the spot. Whether a focal point or installed on a corner, a rose bush trellis is a functional and decorative element to add to any home garden.
Lay five 1-by-2 wood panels vertically on clean ground. Space each 2 inches from the other and ensure all the tops and lower ends are at the same level.
Place another five identical panels horizontally over these. Make sure their ends are in line and provide a 2-inch spacing between each panel. Step back and review the lattice-work structure on the ground.
Secure each intersection or crisscrossing point to assemble the trellis. Staple 1-inch galvanized staples into each joint, or drill 1-inch galvanized wood screws.
Frame trellis to make it sturdy. Lay a 1-by-2 panel horizontally over the top of the lattice-work. Make sure it lies flat over the tops of all the parallel panels. Secure it in place with galvanized wood screws. If it falls short, place another length flush against it and continue drilling it in place. Cut excess off with a circular saw.
Spread a 1-by-2 panel horizontally over the parallel panels towards the lower end and repeat the procedure to provide the trellis a lower frame.
Inspect the lattice trellis to ensure it is secure and sturdy. Drill an additional wood screw over any weak or rickety joint. Position the trellis in front of the desired fence you want to grow the rose bush. Secure each corner of the trellis to it with a 12-inch long galvanized wire. Twist it firmly several times so it does not come loose or fall off.