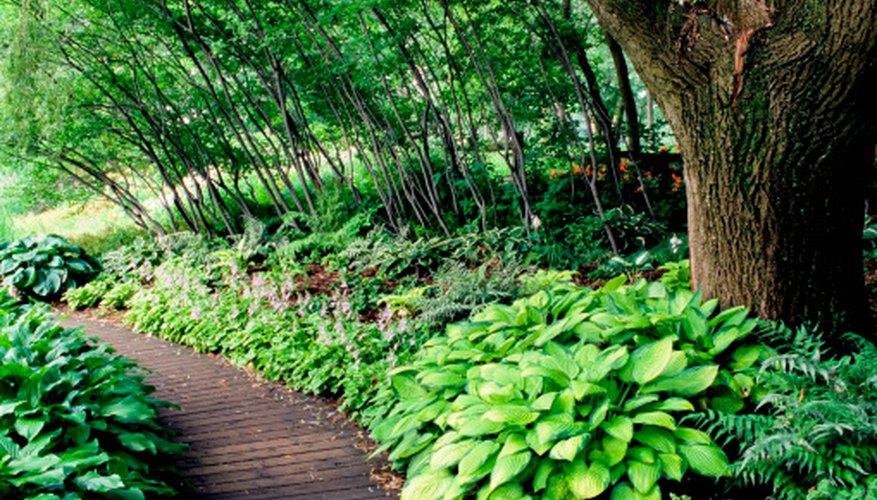 Perry Mastrovito/Creatas/Getty Images
Hostas are shade-loving leafy perennial plants that are grown for their varied and vibrant foliage. Plants average 1 to 2 1/2 feet tall but some large varieties grow up to 4 feet tall and some miniatures remain only 3 to 4 inches tall for the duration of their life. Hostas thrive under threes and shrubs, where they get some morning and evening light but are shaded for most of the day. For a deeply shaded areas, select hostas that have blue tinges leaves. Other varieties that have yellow or gold leaves are less shade tolerant.
Spread a 6-inch layer of compost or manure over the soil at the planting area. Work the soil into the top 6 inches of soil. Dig carefully with a hand trowel to avoid damaging larger tree roots.
Dig a hole in the center of the planting area slightly larger than the nursery pot. Slide the hostas out of the pots and place them in the planting holes. Space multiple plants 1 to 3 feet apart to give them room to grow and fill out. Plant dwarf varieties 1/2 a foot to 1 foot apart.
Fill in the soil around the roots and press down the area with the flat of your hands. Soak the area until the soil around the planting hole is damp. Spread a 1- to 2-inch layer of organic material as a mulch layer over the planting area.
Apply 1 inch of water per week during the growing season. During rainy weather, reduce water applications in accordance with the rainfall.
Things You Will Need
Shovel

Compost or manure

Trowel