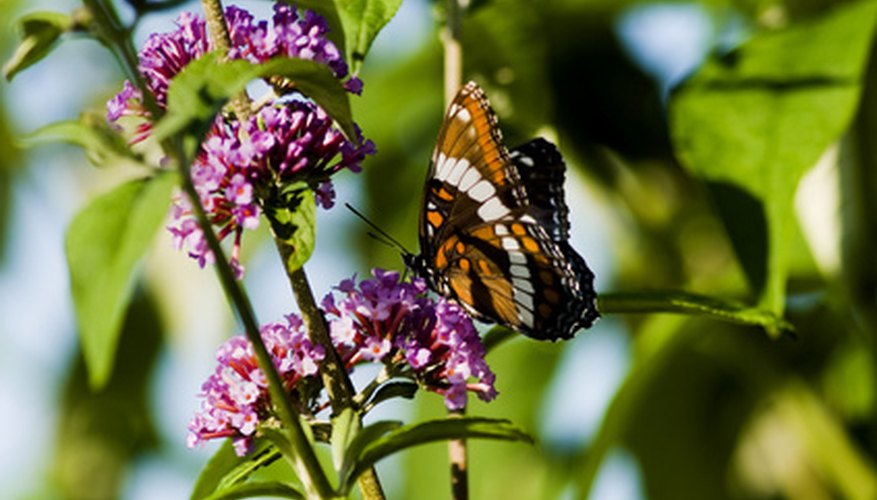 Plants that thrive in full sun are the backbone or workhorse of the garden and provide constant color, sweet fragrances and unusual foliage to the landscape. Grown in a wide range of types, including flowers and shrubs, full-sun plants are typically hardy plants that are known to be drought tolerant to fill in sunny, dry areas of the garden.
Cosmos
Cosmos (Cosmos spp.) are annual flowers that require full sun only and bloom from spring to early fall, making for a long flowering season. They grow 36 to 72 inches tall and 10 to 12 inches wide and are drought tolerant. The bowl- to cup-shaped flowers on cosmos grow in a wide range of colors that include red, lilac, white and yellow flowers and attract butterflies to the garden. The fern-like, dissected, deep green foliage on cosmos holds the single blooms. Cosmos thrive in full sun and well-draining, nutrient-rich soil. To ensure a long blooming season, deadhead the spent cosmos blooms as soon as they are visible. Cosmos are suitable all USDA zones.
Spire Lily
Spire lily (Galtonia candicans), also called summer hyacinth, is a perennial bulb that blooms in late summer and has a moderate growth rate. They grow 3 to 6 feet tall, making for an ideal flower to grow in the backdrop of a flowerbed or border. The white to green, bell-shaped flowers on spire lily appear on the upright, erect spikes that are fragrant. Spire lilies look dramatic when planted next to bright flowers to help accent the garden. The dark green, strap-like foliage on spire lily grows 2 to 3 inches long. Spire lily grows best in full sun and well-drained, moist soil that is nutrient-rich. They grow best in USDA zones 7 to 10.
Butterfly Bush
Butterfly bush (Buddleia davidii) is a deciduous bush that has a rounded form with cascading branches and thrives in full sun only. It has a rapid growth rate and medium to coarse texture. Butterfly bushes grow 5 to 10 feet tall and 6 to 8 feet wide, creating the ideal specimen bush to plant among the garden. The fragrant, 4- to 10-inch-long blooms, or panicles, on the butterfly bush grow in a wide range of colors including, white, yellow, purple or pink. Butterfly bushes emerge in summer to last into fall, making for a long blooming season. Hardy, they are drought-tolerant to withstand periods of limited moisture. Butterfly bushes require well-drained, moist soil and tolerate a wide range of soil conditions. Plant butterfly bushes in USDA zones 5 to 9.