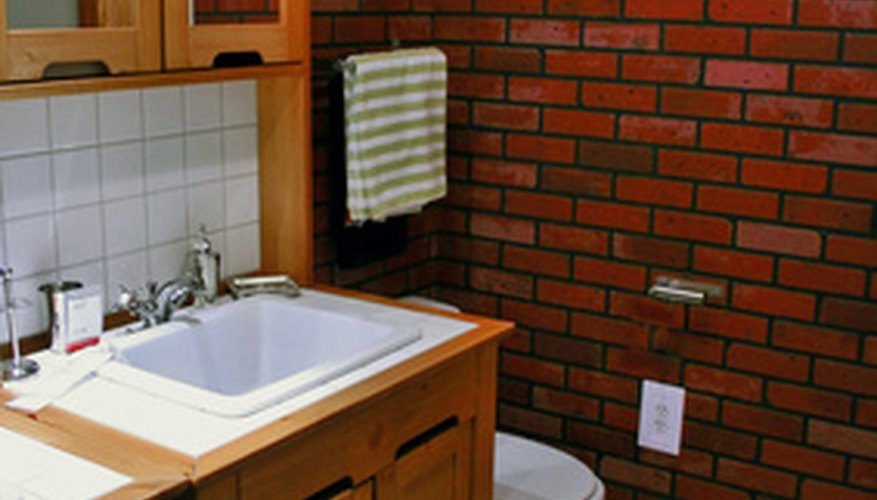 Tea tree oil comes from the Melaleuca tree, or Melaleuca alternifolia. It has been used for centuries by Australian aborigines as an antiseptic. Recent introduction in other continents has renewed interest in its antiseptic properties and brought to light new uses. Tea tree oil is an antifungal, antibacterial and germicide. The anitfungal properties of tea tree oil make it perfect for damp moldy bathrooms and the germ- and bacteria-killing aspect leaves bathrooms sanitized.
Mix 2 teaspoons of tea tree oil with 2 cups of water in the spray bottle. Shake a little to incorporate. This is the basic cleaning solution and will work well on mold and mildew. Spray the mildew and let it air dry. The solution will leave a fresh scent and kill the mold. The stain will remain and may require further stain removal treatment, but the actual mold spores will be dead and will not return as long as the area is kept dry.
Mix together in the spray bottle, 2 tbsp. of tea tree oil, 2 tbsp. white distilled vinegar, and 1 tsp. of Borax. Add 12 oz. of warm water and shake well until Borax dissolves. This works on any area of the bathroom by deodorizing and sanitizing. The vinegar will help the solution rinse clean. Spray the cleaner and let it sit for 30 seconds and then wipe with a clean rag.
Combine 1/2 cup baking soda, a few drops liquid dish soap and 15 drops of tea tree oil. This should combine to a paste and can be rubbed onto hard surfaces to remove films such as lime and hard water stains. Scrub with a sponge and rinse. It is excellent on tub and tile, counters and sinks.
Mix several drops of tea tree oil into a box of baking soda and place under the sink. This will deodorize your bathroom for weeks. Also you can mix 3 tbsp. of liquid dish soap, 20 to 30 drops of tea tree oil and two cups of water in your soap pump. This makes an effective nontoxic antibacterial hand soap.
Things You Will Need
Clean spray bottle

Clean soft rag

Tea tree oil

Borax

White distilled vinegar

Tablespoon

Sponge

1/2 cup baking soda

Liquid dish soap

Full box of baking soda