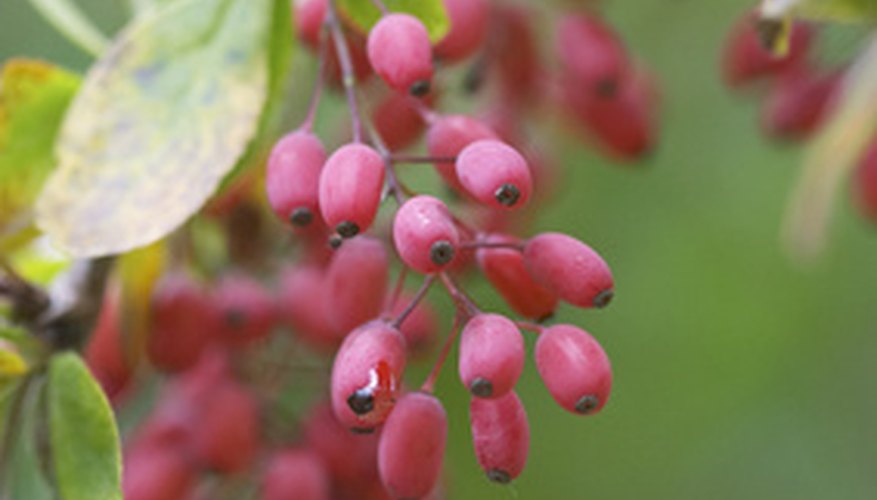 barberry image by AGphotographer from <a href='http://www.fotolia.com'>Fotolia.com</a>
Berberis thunbergii, better known as Japanese barberry, is a deciduous flowering shrub that blooms colorful fragrant flowers in the summer in USDA zones 5 to 8. Because it flowers on its current season's growth, yearly pruning of some of the old wood is essential to keep a Berberis thunbergii tidy and full of blooms. Always wear garden gloves, long-sleeve shirt and pants because a Berberis thunbergii bush has thorns.
Prune Berberis thunbergii in the late winter or early spring before new growth begins to grow. However, prune diseased or damaged branches any time of the year. Use a pair of pruning shears or hand garden clippers.
Prune to shape or thin and to cut off the oldest and tallest branches. Cut off no more than one-third of a Berberis thunbergii. Choose some stems in the middle of the plant to increase air flow and off the top to reduce height. The bottom of the bush should remain wider than the top.
Cut just above the bud or parent branch. Cut at an angle so the cut is parallel to the parent branch. You do not need to seal the cuts. Clean up the branches and discard.
Things You Will Need
Pruning shears or hand clippers

Garden gloves

Long-sleeve shirt and pants