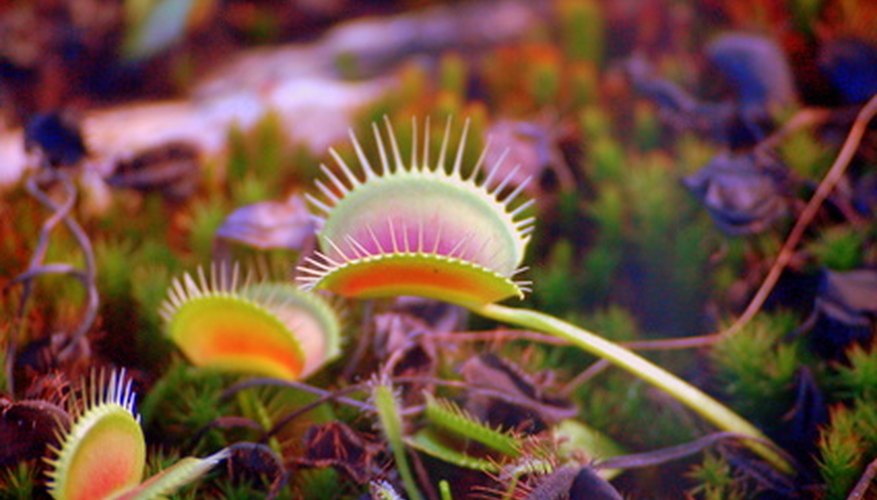 Within the state of South Carolina, over 3,000 species of native and naturalized plants reside. Rare plants abound, with about 700 species listed as rare and 78 species listed as endangered or threatened, according to the South Carolina Native Plant Association. The state boasts diverse geography, coastal regions and marshlands that help foster plant diversity.
Wilderness Areas
Along the Middle Saluda River, near Jones Gap, more than 400 species of rare plants reside. The diversity gives the region a well-deserved reputation as a haven for local plant life, according to the South Carolina Department of Natural Resources. At Jones Gap, an environmental learning center teaches visitors about the surrounding area, wildlife and fauna.
Carnivorous Plants
Along the coastal forest region of South Carolina, more than 24 carnivorous plants reside, according to the Audubon Magazine. Carnivorous plants, such as the Venus fly trap and the pitcher plant, meet their nutritional needs by consuming insects. Poaching of native carnivorous plants is a serious concern in the state.
Urban Growth
Urban growth in Beaufort and Jasper counties pose a threat to native South Carolina plant life. At least 30 rare plant species exist in the region, but many areas where the plants reside are being turned into golf courses or housing subdivisions. Numerous species that thrive in the region are fire-dependent to ensure regeneration every few years. Due to its commercialization, the area will no longer suffer fire regeneration, which means many unique species may perish over time such as the Bottlebrush Three-awn (Aristida spiciformis).
Georgia Plume
The small Georgia plume tree (Elliottia Racemosa) once grew in the South Carolina sand hills but is now gone from the region due to the ever-increasing population and growth. The tree can now only be found residing in Georgia, where it is considered seriously threatened.
Mountain Bogs
Even mountain bogs within South Carolina are being drained to make room for residential growth. The aquatic mountain bog herb, Sagittaria fasciculata, is seriously threatened in the state, according to the Center for Plant Conservation. The plants are very localized because they appear to only spread utilizing rhizomes with no seed production. Currently, the South Carolina Heritage Trust is working with landowners to save the bogs and help preserve the natural, endangered fauna of the area, such as the Sagittaria fasciculata.