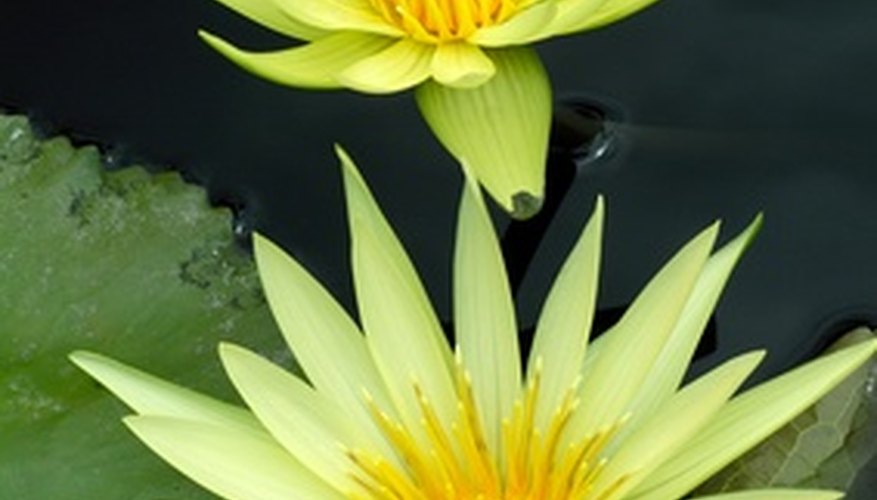 Water lilies are an elegant plant to grow in the water garden. Lilies bloom yellow, pink, red or lavender flowers from the center of a round, smooth leaf. Tropical varieties, says the Utah State University Extension, grow as annuals, but you can also buy perennial varieties that require covering during the cold winter months for protection. Water lilies grow slightly under the water surface and emerge around March when the weather is warm. It is best to start water lilies in pots.
Fill a plastic pot to 2 to 3 inches from the top with a silt-loam or clay type soil. Specific soil for aquatic plants is available at some garden centers. Use a pot with drainage holes.
Plant the lily rhizome at a 45-degree angle to the side of the plastic pot. Place the rhizome towards the top of the soil, only covering at most with 2 to 4 inches of soil, and leave the growing tips sticking out, advises the University of Illinois Extension.
Place three or four aquatic plant fertilizer pellets into the soil when planting. Cover the soil with gravel or rocks to keep the soil in the pot.
Water the soil heavily and pace the pot into the pond, lowering it gently so that it doesn't tip. Place rocks or other pots underneath the pot to raise the level of the lily. Lilies prefer their crowns to be covered with 10 or more inches of water, notes Iowa State University.