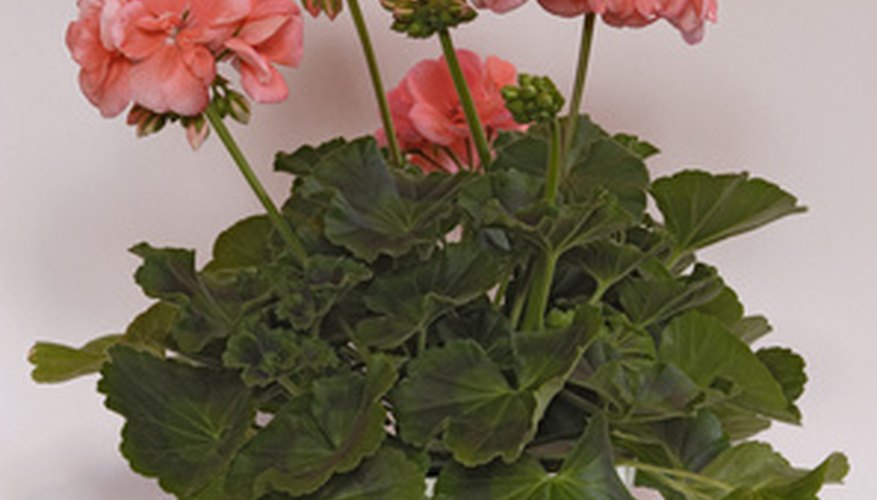 Africa is a huge continent that boasts stunning diversity in its native flora. From the lush tropical plants of South Africa's cape region to the hardier desert plants of the North, African plants are enjoyed and cultivated across the globe. There are a handful of lovely plants native to Africa that may be grown indoors as houseplants.
Society Garlic
A member of the amaryllis family, society garlic (Tulbaghia violacea) is a flowering herbaceous perennial that boasts edible rhizomes. A native of the cape region of South Africa, society garlic is a low-growing plant that sports grasslike green foliage topped with tiny lilac-tinged white flowers. The leaves of the plant have a distinct garlic aroma, whereas the summer blooming flowers smell much sweeter. Society garlic may be grown indoors in a very bright, sunny location of the house. The ideal soil for the plant is well-draining, sandy and light. Water frequently during the growing season and reduce watering during the winter. Be sure to plant in a container or pot with a hole in the bottom in order to promote good drainage.
Geranium
The geranium genus is a genus of flowering plants that largely hail from South Africa. The Pelargonium crispum geranium is a species that will grow both indoors and outdoors as long as it has bright, indirect light and a well-draining soil, preferably one mixed with peat moss or similar organic matter. Blooming in the summer and fall, the geranium boasts citrus-scented pale pink flowers and ruffled dark green leaves. The plant does best in a south-facing window that gets at least a half a day of bright sunlight. Water the geranium plant regularly--more in the summer, less in the winter. Spider mites and other common indoor pests may be a problem with this plant, so check leaves occasionally for problems.
Algerian Ivy
A member of the ginseng family, Algerian ivy (Hedera canariensis) is an evergreen vine that sports leathery, slightly glossy green leaves. Some cultivars may have variegated leaves. The sprawling plant is a native of North Africa, Portugal and the Canary Islands. Commonly grown as a lush ground cover in tropical and subtropical climates, Algerian ivy has also garnered popularity as a houseplant. The plant is fairly hardy and will tolerate most any soil pH as long as the soil is at least moderately rich and moist. Algerian ivy will even tolerate salty soils, a result of its evolution on African shores.