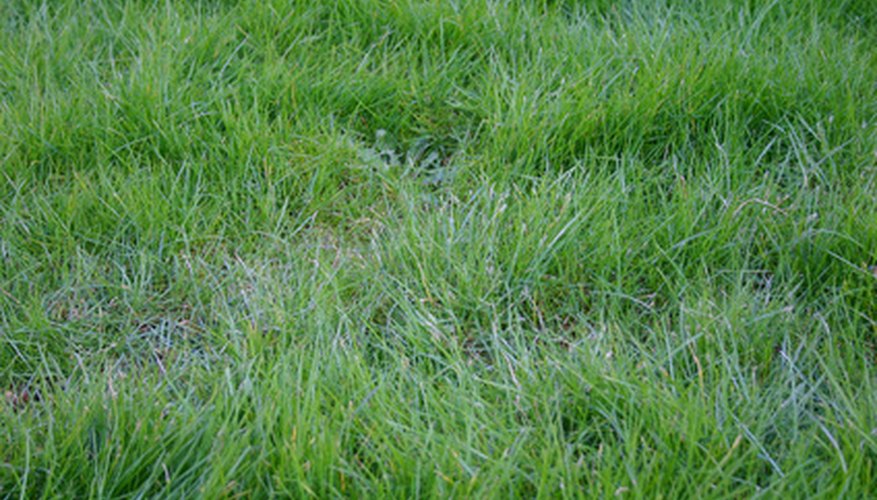 Getting a great lawn takes more than checking up on the lawn once a season and mowing regularly. Great turf requires a regular maintenance schedule. Lawns require regular feeding to stay green and grow lush and healthy. Thick turf prevents the growth of weeds and disastrous disease. A healthy lawn also resists disease longer and is not easily damaged by insects. Putting together a natural lawn care regimen does not require the use of chemicals that can be dangerous to you and the environment.
Test the soil of the lawn using a pH testing kit to determine the fertilizer requirement and the soil acidity. Follow the instructions on the pH testing kit's label to determine fertilizer requirements. Send samples of the lawn to a university extension service if using a pH kit proves too difficult.
Measure the lawn in square feet to determine how much fertilizer will be required. As a general rule, fertilizer is applied according to pounds of nitrogen per 1,000 square feet. Calculate the nitrogen content of fertilizer by finding the first number of the fertilizer ratio on the side of the bag. That is the nitrogen content by weight. For example, 10-10-10 will have 10 percent weight by way of nitrogen. Multiply the weight of the bag by the percent. A 24 lb. bag of fertilizer with 10 percent nitrogen weight will have 2.4 pounds of nitrogen.
Apply fertilizer to the lawn three times a year: once in April, once in the early fall and once in November before the first frost. Use the pH test results and the fertilizer requirements of your chosen grass type to determine application rate. Apply fertilizer using a drop spreader set to the application rate for your lawn. Spread half of the fertilizer in one direction on the long, then cross the first direction to spread the second half. This provides optimum coverage.
Mow your lawn regularly, keeping it to the recommended height of the grass type in your lawn. Cut only one-third of the grass blade at a time to prevent damaging the grass, recommends Ohio State University.
Apply water to the lawn in the morning, says the University of Missouri, to reduce evaporation and sun damage due to heated water. Lawns need 1 to 1 1/2 inches of water per week to survive.
Aerate the lawn in the fall before the last fertilizer application to ease compaction and improve soil drainage. Aeration is the removal of 3- to 4-inch plugs of dirt from the lawn. Run the aeration machine the same way as the fertilizer spreader, crossing runs across the lawn for the best coverage. Break apart the soil plugs using a rake.