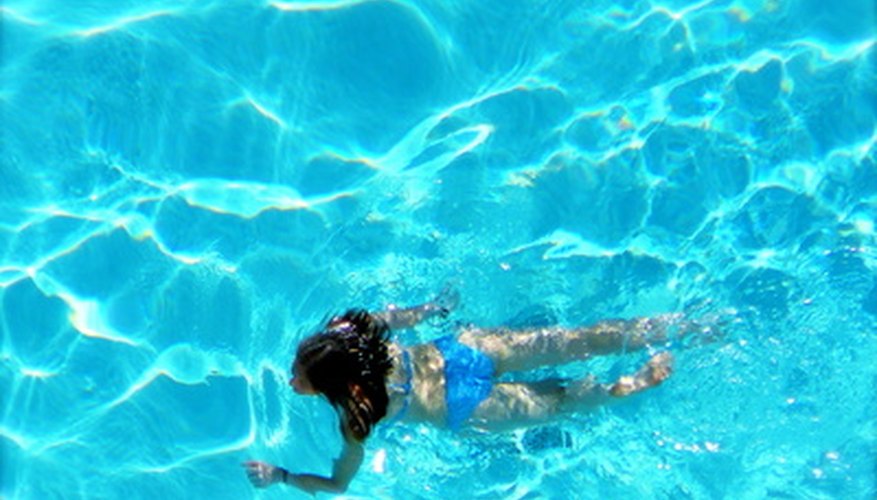 Swimming pools are major home improvement projects that require planning, expense, decisions and work. It's worth taking a little time and effort to make plans to finish the area around the pool while you are preparing to purchase and install an above-ground swimming pool. How you want the pool to be used and to look after it is installed is just as important as how much it will cost and what size pool you want. Landscaping, lighting, access paths, privacy screens and safety and recreational accessories are all part of finishing your swimming pool.
Landscaping
Plan to landscape around the pool once it's installed and ready to use. A 3- to 5-foot border of decorative rock or gravel over a weed barrier around the outside of the pool walls creates a clean, manicured look for the immediate pool area and eliminates dead turf from chlorinated water. A screen of tall evergreens on one or two sides of the pool to shield swimmers from the prying eyes of neighbors or passers-by on the street creates a more pleasant swimming environment. Alternatively, if there is no need to screen the pool from view, plant ornamental shrubs around the pool for flowers and fragrance. Patio blocks or a deck around a pool turn unused space into a productive and attractive area.
Lighting
Lighting around the pool allows you to use it at night for pool parties and entertaining or personal enjoyment. Use an underwater lighting set to light the water. Have a certified electrician run electricity to one or more poles near the pool area and install area lights. If you don't want to run a new electric line to light the pool and it's close enough to an outside outlet, string bright outdoor patio lights on poles to use for night swimming. Solar lighting around the pool is another alternative.
Accessories
Aside from pool toys and cleaning equipment, accessories add to the safety and enjoyment of an above-ground swimming pool. Accessories such as safety railings, ladders, slides, pool covers, locked gates, textured flooring on decks or patios around pools and secure fencing enhance your pool's usefulness. If your yard is not fenced, you may have a legal duty to enclose it if you install a pool. Check with your area's zoning and building ordinances. A fenced area around a pool creates a secure area to prevent others from using your pool without your presence or knowledge. A safety deck with an enclosure and locked gate serves the same purpose.