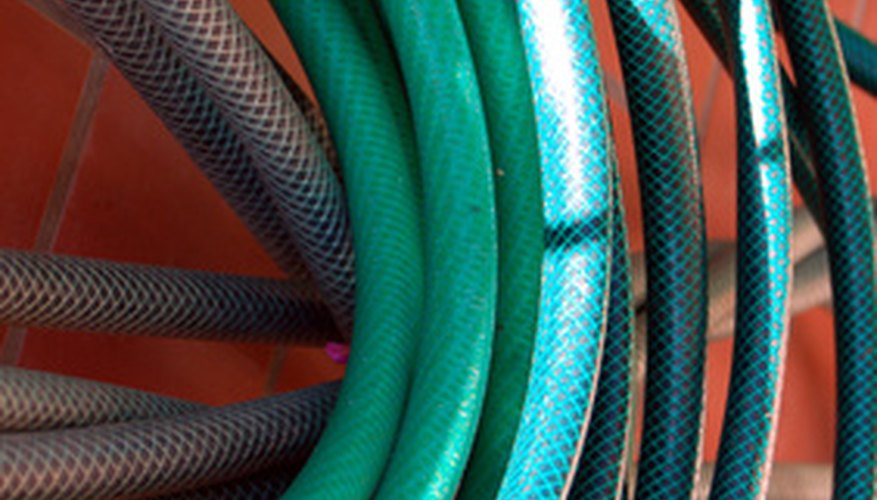 Drip irrigation systems offer an efficient means of delivering water to vegetable gardens, trees and even potted plants on a patio or balcony. This method of watering gives plants a measured amount of water where they need it, at their root zone, while depriving weeds and other unwanted or drought-tolerant plants of water. This method conserves water as well because it doesn't waste water where you don't need it, such as on sidewalks, driveways and garden paths. Build a drip system with pieces you purchase, or make your own system using a standard garden hose.
Measure the area where you want to install your drip irrigation system. You can make it large or small, depending on the size of the area you want to cover. Because not all plants grow in tidy rows, visualize where your main line, made of a garden hose, needs to travel in order to provide coverage to all the plants you want to water. You might want it to snake through your garden in order to provide the maximum coverage for all your plants.
Connect one or more garden hoses to a water faucet that is near the area you want to water. String your hose or hoses through your garden as you planned.
Punch one hole in your garden hose for every smaller ¼-inch side water line you need.
Insert one straight connector into each hole and then attach a length of the ¼-inch hose to each connector. The length of each ¼-inch hose depends on how far you need it to reach.
Attach a water emitter to your ¼-inch hose at each location you want to water. You can water more than one plant on each lateral line by cutting the ¼-inch hose into as many pieces as you need and then inserting a water emitter between each cut, depending on the location of your plants.
Connect an end cap or plug at the end of each ¼-inch line. Cap the end of your garden hose as well, using a larger end cap: parts such as end caps are available at garden supply stores.