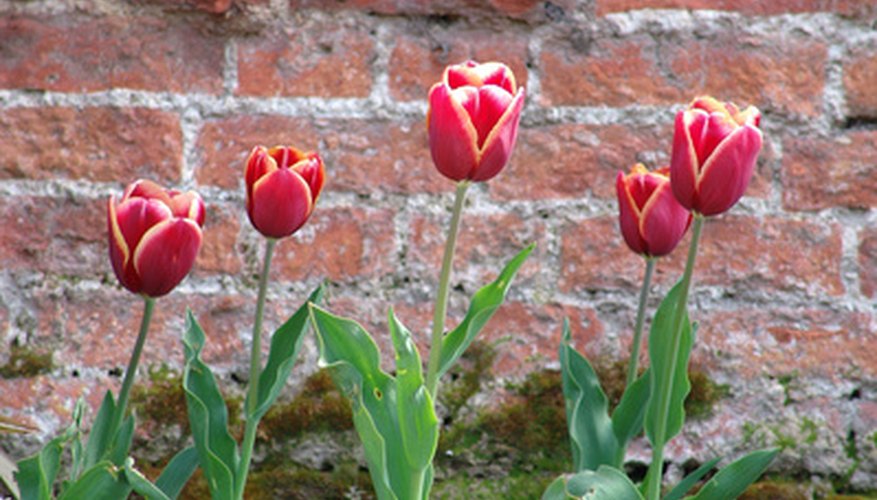 red tulips in front of brick wall image by thomas owen from <a href='http://www.fotolia.com'>Fotolia.com</a>
According to The Garden Helper, raised beds should be created during the autumn or winter months when the more important gardening projects are on hold. Doing so will allow the compost and soil to settle in the garden bed before planting begins. Bricks for this project can be found at a home improvement store, or picked up where a building is being demolished. Remember to ask before taking the bricks from these types of sources.
Brick Garden Bed
Measure and stake out the garden bed area by hammering the stakes into the ground and tying them off with twine. Decide how high the bed will be, and collect the number of bricks that will be necessary to finish the project. Place these bricks close to the garden area so that grabbing them will be easy when it is time to build the bed walls.
Dig up the ground where the bed will be built. Dig down about 1 foot and sift through the debris with your hands. Take out any rocks, twigs and other items that could impede the growth of plant roots, and replace the soil in preparation for adding the compost. Break up any large chunks of soil to make mixing easier.
Create a wall around the dug-up area using bricks. Lay the first layer of bricks on the ground, moving the soil under each to make sure that the bricks will not wobble in place. Take up the stakes at this point as they are no longer necessary as guides. Make sure that the seems of the second row of bricks do not line up with the seems of the first row, as this will add more visual appeal and create a sturdier wall. Keep building the wall up in this manner until you have the height of bed that you desire.
Shovel compost into the bed with the spade, about half way to the top. Mix the compost into the dirt. Add more compost to the bed, coming to the top of the bed this time. Mix this with the previous layer of compost and dirt. Even the top out to prepare for planting.
Moisten the soil in the raised bed. Plant the seeds 1/2 to 1 inch deep, according to package directions. Be sure the seeds are covered and water the garden again. Do not drench the garden too much.
Things You Will Need
Spade

Stakes

Bricks

Compost

Seeds

Watering can