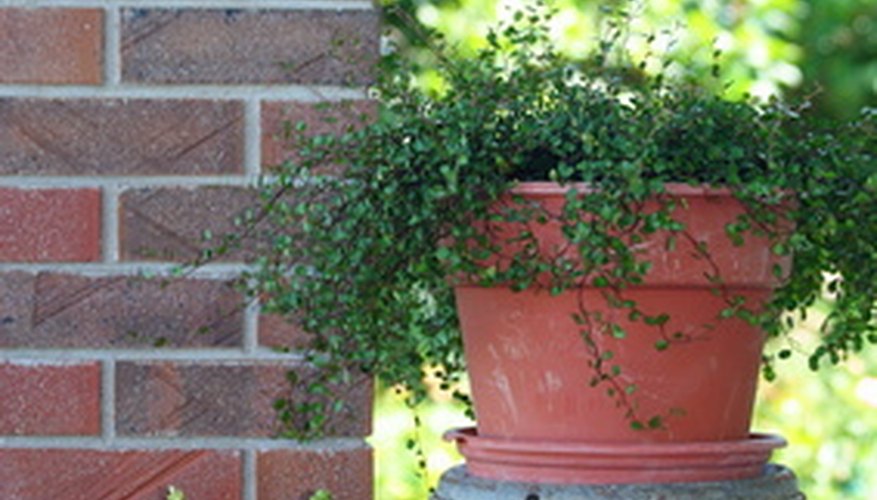 Staging planters filled with ornamental plants allows a homeowner to create a yard that everyone will enjoy. The Fine Gardening website explains potted plant displays can be created by moving the plants into attractive groupings. The plants may be moved up or down from their current locations for a different look. Small planters may be moved in front of larger ones to create a new perspective as well.
The Plants
Most types of plants can be placed in pots for display purposes, from bay and lemon trees to small flowers. Herbs can be grown in them, as can fruits and vegetables. Try using plants that are both attractive and useful, such as chives. Flowers, such as lilies, are another option.
Planters
Any type of container can be used for potted plant staging. Small planters to large, plain to decorative and plastic to wood. They should have holes in the bottom for drainage purposes, and larger planters may be placed on casters for easier moving. When casters are not used, place these larger containers where desired before filling with dirt.
Simple Staging
Potted plants can be placed up the steps to a home or patio. One plant per step is generally used, unless the steps are wide enough to place pots on either side of each step. One of the steps could hold a set of three smaller pots for an interesting touch.
Pots can be placed on casters or some type of platform to add height, or in a chair that is not used for sitting. A pot placed in the center of the patio table adds visual appeal, as well as sturdiness during windy weather.
Planter Arrangement
Place some planters at eye level, and others lower or higher for a dramatic effect. Balancing planter sizes is desirable for some gardeners, while others prefer a mix of different sizes.
A large planter placed in a corner somewhere in the yard will hold vegetables such as tomatoes, spinach and lettuce. Smaller pots filled with herbs can be placed around the sides and front of the larger planter.
Taking this a step further, one medium size planter can be placed on either side of the large planter, as well as another in front. Then small pots can be placed in front of the two open areas between the medium size planter.
Porch Display
A display using the area in front of and on the porch adds visual appeal to a garden area. Planters are hung from the top rail of the porch using brackets, then window boxes are placed in a line along the floor of the patio area. A bench is then placed in front of the patio, on the ground, and planters are placed in a line along the bench. More planters are then placed on the ground in front of the bench.
These planters can hold any mixture of plants desired, and a potted lemon tree can be placed in the corner for a more interesting effect.