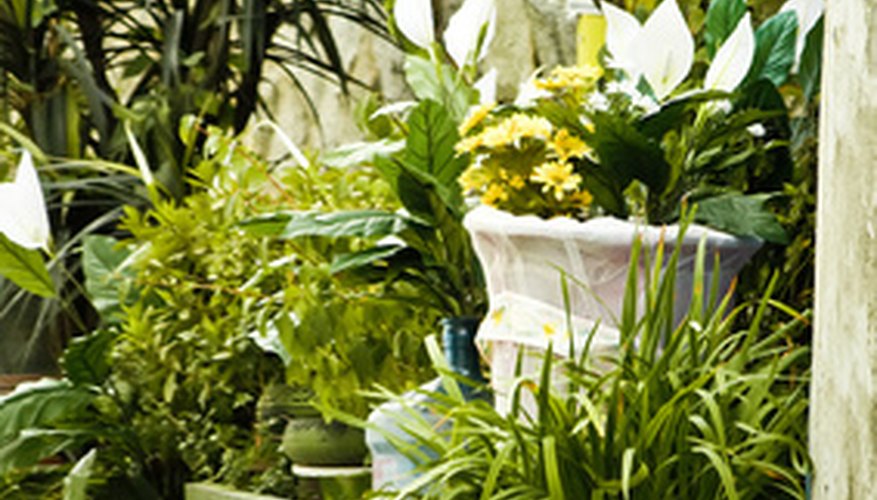 While most courtyards use the walls of an attached house or garage as part of the structure, you can create a courtyard in your garden with plants and pavers. Select a spot that receives dappled shade or morning sun and afternoon shade. Under a tree works well if the tree lets in sunlight. Courtyards often have a focal piece like a water feature, urn or sculpture in the center.
Level the area to eliminate any material slope, fill in depressions and eliminate high spots. It doesn't have to be perfect. Dig a trench around the courtyard that's 3 inches deep. Lay bricks end to end as a border around the courtyard. The bricks should show about an inch above the soil line. They hold the pea gravel inside the courtyard floor.
Lay a 1 inch layer of newspapers in the courtyard. That will kill any grass or weeds. The layer will compress down to perhaps 1/2 inch when it's watered and under the weight of the stepping stones.
Lay the stepping stones directly on the newspaper leaving no more than an inch between stones. Fill in the gaps with pea gravel. Using the rounded end of a broomstick, rake or shovel, tamp the gravel down. Add more if necessary. Your courtyard floor is now finished.
Place a bird bath in the middle of the courtyard. Adjust the stones underneath the bird bath so they are level to ensure the birdbath is not tilted.
Surround the birdbath with containers of flowers. Geraniums, petunias and bacopa all do well in dappled shade.
Place a bench in one corner of the courtyard. Put patio chairs on each side of it and a low table in front of it for a seating area. If there's room, put a small table and two chairs in another corner for a dining area.
Plant low-growing bushes on two sides of the courtyard to provide a sense of enclosure without cutting off breezes. Select from fuchsia--the shrub not the houseplant--roses and pyracantha. At the outside of the courtyard in each corner, plant a tree that grows to only 12 to 15 feet high. Good choices are crepe myrtle, Japanese maple or mountain ash. Plant tall bushes in the back of the courtyard. Yew is a good choice.
Place an arch in the center of the fourth side to notate the entry way. Grow vines like honeysuckle or jasmine up and over the arch.
Things You Will Need
Shovel

Rake

Bricks

Newspapers

Stepping stones

Pea gravel

Bird bath

Flowers in containers

Trees

Bushes

Garden arch
Tip
Use sand instead of pea gravel.
Warning
Don't use black plastic instead of newspapers. It shreds and comes up through the pea gravel.