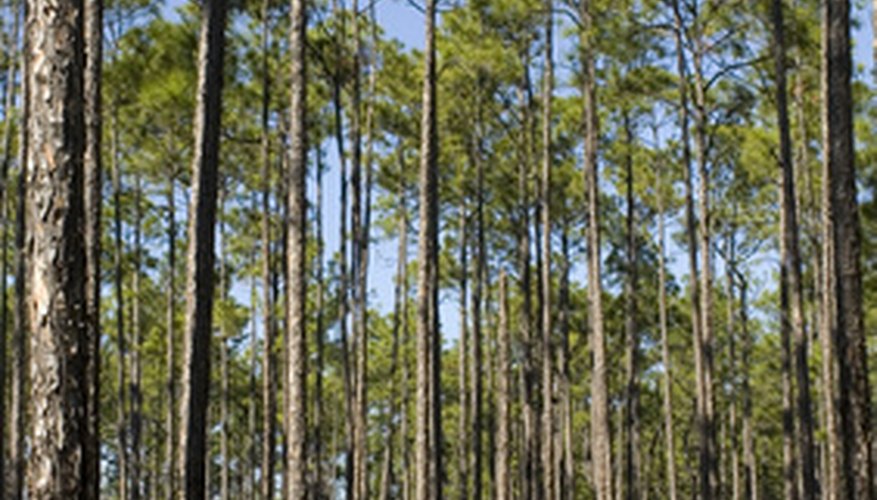 Florida's Everglades is a complex ecosystem with both dry and aquatic biome features, according to the University of Miami Department of Biology. This complexity allows a diverse range of plants to thrive in the Everglades. Drought-tolerant hardwood trees rise above a shady understory of low-growing shrubs and herbal plants. Coniferous trees have their place in the Everglades' pinelands. Its wetland areas are home to vast stretches of grass that thrive in shallow, calm water.
Gumbo Limbo Tree
Recognizable from its peeling, coppery bark, the gumbo limbo tree (Bursera simaruba) brings dense summer shade to the Everglade's hardwood hammocks. Typically reaching 25 to 40 feet high and up to 30 feet wide, it handles drought and salt spray with equal ease. Its stout branches form a heavy canopy of four- to eight-inch oval green leaves that remain on the tree until new leaves emerge in the spring. Gumbo limbo's inconspicuous white flowers bloom from January to April. White-eyed vireos feast on the berries that follow them, regurgitating the seeds and letting the trees spread over a wider area.
Saw Palmetto
Named for its saw-toothed leaf stalks, or petioles, saw palmetto (Serenoa repens) shrubs grow in the shady, porous soils of the Everglade's hammock and pineland scrub understories. Standing from 10 to 12 feet high, they have dense branches with white, bluish-green or green foliage. The plants' individual leaves may be more than three feet wide. Saw palmetto's fragrant white flowers appear between May and July, according to the Lady Bird Johnson Wildflower Center. Wild turkeys and deer shelter in palmetto stands. Wildlife including bears, wild hogs, foxes and, tortoises feed on the shrub's berries.
Pigeon Plum
A small, 15- to 25-foot evergreen tree, pigeon plum (Coccoloba diversifolia) grows in the Everglades' hardwood hammocks. Glossy green leaves remain on the trees until March before dropping to let new red foliage emerge. The pigeon plum has profuse clusters of small white flowers in early summer. They give way to tiny purple berries, a favorite food of the endangered white-crowned pigeon, according to the National Park Service.
Sawgrass
The central and southern Everglades' legendary "river of grass" wouldn't exist without sawgrass (Cladium mariscus ssp. Jamaicense). Named for the razor-sharp teeth of its leaf blades, sawgrass can take a painful toll on unwary trespassers. Dominating the Everglades' sawgrass marsh, or prairie, this plant is actually a sedge instead of a true grass, according to the National Park Service. It flourishes in slow-moving marsh water and peat-rich soils, growing up to nine feet high. Between July and October, large green flower spikes rise above the plants' leaves. Because alligators nest in stands of sawgrass, few other wildlife species inhabit them.