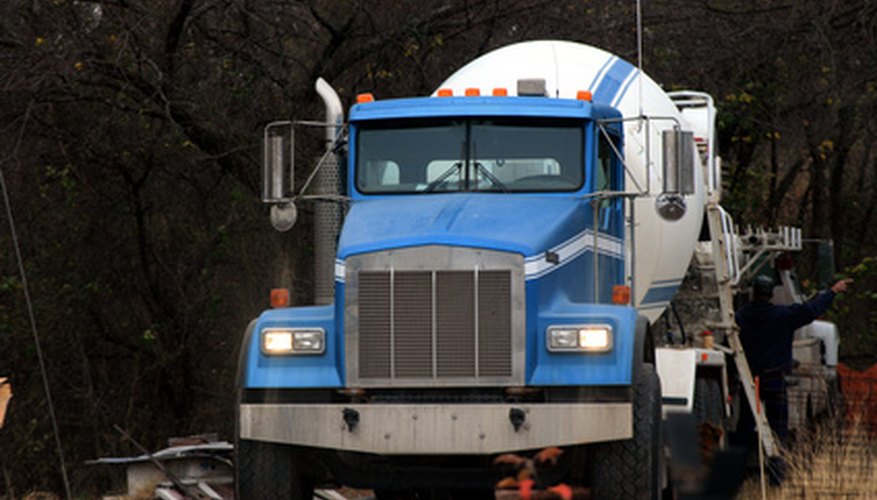 Concrete truck in the process of pouring a job image by JKeen from Fotolia.com
Concrete driveway tracks are a money saving alternative to a full concrete driveway. Driveway tracks also offer a place for water to drain into the soil rather than running off the driveway into the street. Building your own driveway tracks is a great project for a handy do-it-yourself homeowner.
Drive stakes into the ground to form two rectangles measuring 18-feet long, 30-inches wide and spaced 5-feet apart.
Dig the ground between the stakes 8-inches deep with a shovel. Repeat in the other staked out rectangle. Remove the stakes.
Knock down high spots and fill in low spots at the base of the ground with a shovel.
Tamp the ground with a hand-held tamper or rent a gas powered tamper to pack the base tightly.
Place 2 by 4 boards inside the excavated ground, butted up to the edges of the soil tightly to create forms. Repeat in the other excavated rectangle.
Place 1 by 2 boards every 6-feet across the width of the rectangle inside the wood forms, to create expansion joints; these allow the concrete to move slightly and avoid cracking and breaking in the future.
Add 4-inches of stone to the base of each rectangle.
Drag a piece of lumber across the top of the stone to level it.
Lay wire mesh over the top of the stone and in between the wood forms.
Mix concrete in a wheelbarrow or trough according to the directions printed on the bag or call to schedule a concrete pour from a concrete delivery company. Order 3000 psi concrete, which refers to the strength of the concrete.
Pour the concrete, beginning at the edge of the forms and use a shovel to spread it throughout the form.
Use a bull-float to smooth and level the surface of the wet concrete. A bull float is a large trowel attached to the end of a long pole.
Spray the wet concrete surface with curing compound to finish.
Allow the concrete to set up for 3 to 4 hours and then remove the wood from around the perimeter of the driveway tracks.
Things You Will Need
Tape measure

Stakes

Hammer

Shovel

Tamper

2 by 4 lumber

1 by 2 lumber

Stone

Wire mesh

Wheelbarrow or trough

Bull-float

Curing compound
Tips
Allow the concrete to set and dry for 7-days before driving on it.

Wear safety glasses and gloves when working with concrete.

Consider adding pigmented dye to the concrete to create colored driveway tracks.