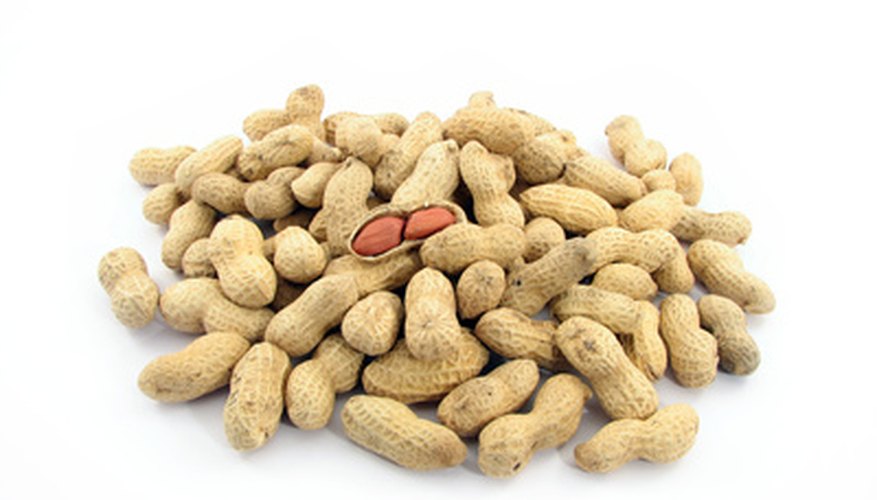 The peanut plant (Arachis hypogea) is a warm-climate crop that does best in light, well-drained soils. Peanuts are a legume, related to peas and clovers, and like all legumes, they allow certain bacteria present in the soil to enter the root system to produce nitrogen the peanut plant needs for growth. Peanuts are ground into flour, made into sauces, roasted, boiled and used in many culinary dishes throughout the world. They also produce oil and fiber used in many industrial applications. Peanuts can be grown in any container of suitable size with good drainage. It is also possible to grow a peanut with a plastic bag.
Find a plastic bag that will not deteriorate when located in direct sunlight for five months. The thin type of plastic bags used for groceries will probably be made of inferior material and be too small for growing a peanut plant. The bag you choose should hold soil 6 inches deep and provide an area at least 24 inches wide to accommodate the spread of the peanut plant. The plant can spread as wide as 36 inches.
Locate a place to grow your peanut plant with a bag that gets at least six hours of direct sunlight each day.
Add new potting soil that provides good drainage. Do not use a potting mix that contains peat moss because peat moss holds moisture. Also, avoid using garden soil that may contain disease pathogens or insects that damage peanut plants. Add enough potting soil to provide a planting area 6 inches deep and 24 to 36 inches inches wide. Use a sharp knife to cut several slits 1 inch long along the bottom and side of the bag to allow for good drainage, but not allow soil to wash from the bag when you add water.
Plant the peanut seed 1 and 1/2 inches deep after the last average frost date in your area. Moisten the soil after the seed is planted. You should see the seed sprout in 10 to 14 days, depending on the soil temperature.
Continue to keep the soil slightly moist, but not wet, while the plant grows. It will bloom in about four to six weeks. After each yellow bloom fades, a stem will begin to elongate from where the flower was located.
Allow the stem to have contact with the soil. It will grow into the soil and the peanut will form just under the soil surface at the end of the stem. Do not over-water the peanut plant during the peanut-formation period. Harvest the plant when the plant no longer produces flowers and begins to turn brown. Simply pull the plant from the soil, shake off the loose soil and hang in a dry, warm place to dry.