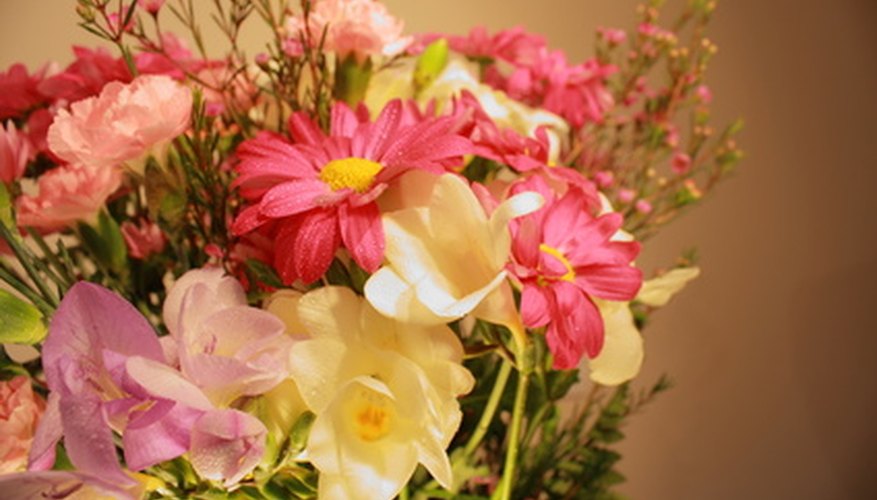 Cut flower bouquets are a beautiful way to brighten up any room in your home. They also make terrific gifts, either to a loved one or even yourself. Unfortunately, cut flowers are not usually long-lasting gifts--flower bouquets may start to wilt in as little as a day or two. There are several ways to keep your flowers fresh longer, including making sure you use a clean vase and keeping them out of direct sunlight. You can also keep your flowers in a cool, dark location when they're not on display.
Set the temperature setting on your freezer to around 36 degrees F, which is the temperature of most florists' flower coolers. To a point, the lower the temperature, the longer flowers will last, according to Simon Says Roses. Let the temperature adjust for 24 hours.
Fill a clean vase with lukewarm water. Add floral preservative according to the directions on the package and the size of your container.
Remove the leaves from the lower part of your flowers so none will be submerged in the water. Submerged leaves will decay and add to bacterial growth, shortening the life of your flowers. Cut an inch off the bottom of your stems at a 45-degree angle and immediately place the stems in water.
Make space in your freezer for your vase of flowers. If it is tall, you may need to rearrange some shelves. Place the flowers and container in the freezer. Remove only when you want to display the flowers, and return them afterward.