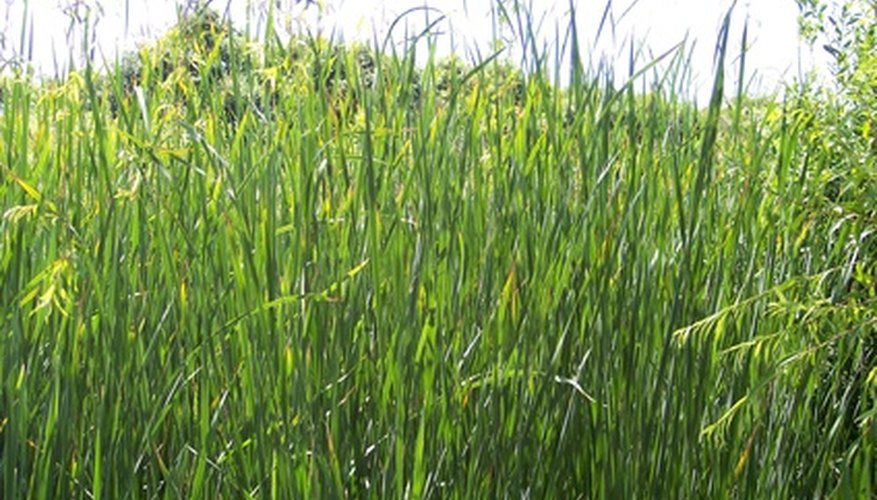 grass image by timur1970 from <a href='http://www.fotolia.com'>Fotolia.com</a>
Scotts provides a variety of products including its Turf Builder and Lawn Pro lines with an added crabgrass preventer. You may also use a product from Scotts named Halts Crabgrass Preventer on its own without the added benefit of fertilizer. The fertilizer products feed the lawn and all products offer a chemical barrier that prevents crabgrass from emerging throughout an entire season. Apply the chemical appropriately to prevent "burning," a side effect of incorrect fertilizer application that dehydrates the grass.
Measure the longest and widest part of the lawn to which you want to add the Scotts crabgrass preventer with a measuring tape to determine length and width. Deduct non-lawn areas such as the driveway or house from the total to calculate the total square foot to cover. Multiply length by width to determine the total square foot of the area.
Read the bag instructions to determine how many pounds cover 1,000 square feet since each Scotts crabgrass product varies. Most products require 2 to 4 lbs. to cover 1,000 square feet, according to Precision Products, Inc., the maker of the Broadcast Spreader.
Set the spreader's calibration indicator to the appropriate level based on your spreader's instructions. Start at 2 or 2.5 for most spreaders when making two passes. If making one pass, use 4 or 4.5 to start.
Pour the crabgrass preventer into the spreader with the spreader parked in an area other than the grass or garden areas, such as on a driveway.
Walk the spreader over to the grass in the "off" position. Once on the grass, lower the spreader, switch it to the "on" position and start walking.
Walk at a steady pace, working in rows, to give an even application. Do not walk fast or you'll apply the crabgrass preventer thinly. Shut off the spreader at the end of each spreader and turn back on when you start at the head of the next row.
Apply in two passes in a crisscross pattern. The first should be a horizontal pass then the second pass vertical. This will ensure adequate coverage.
Water the lawn until moist after applying the crabgrass preventer.
Tips
Apply in early spring, in May, after all chance of frost has passed.

Don't use on new lawns until after mowing the lawn a minimum of four times.

Apply a maximum of twice per year and spacing feedings at least two months apart.