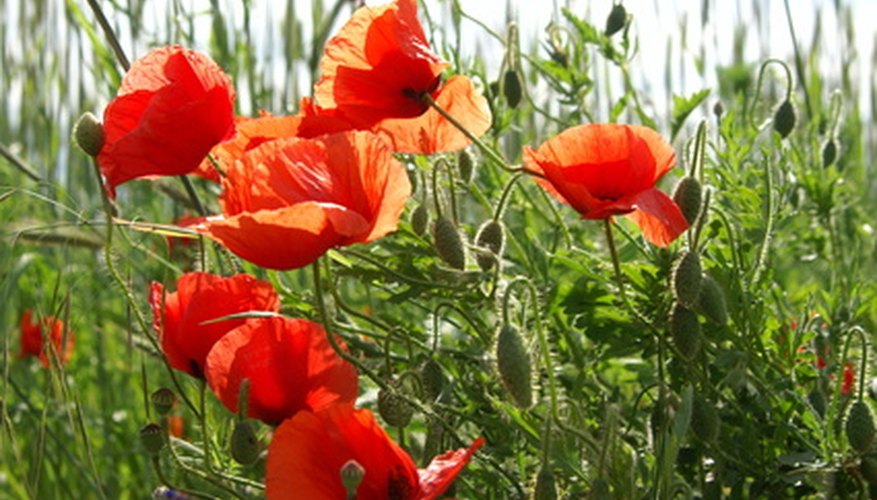 Poppies (Papaver spp.) vary widely in size, appearance and even growing habits. Some species are annuals, while others are hardy perennials. One species, the opium poppy (Papaver somniferum) is illegal to cultivate in the United States. That still leaves plenty of other species and cultivars to choose from, all with the same basic culture needs. Of the five commonly grown poppy plants, the showy and colorful Oriental poppy (Papaver orientale) is probably the most popular with home gardeners.
Choose a planting site that has well-draining soil. This is essential for any species of poppy, according to Texas A&M University. The site should also have full sun exposure, whether you are planting the seeds of annual poppies or planting a perennial.
Rake the soil to loosen it up, then scatter the seeds over the soil. Perennial poppy seedlings can be gently pressed into the soil just deep enough to cover the roots. Leave 2 feet between each plant, as perennial poppies have a 24-inch spread.
Water thoroughly after planting the seedlings or scattering the seeds, but take care not to wash them away. Keep the soil moist until germination or until the seedlings have grown several inches.
Water during periods of hot, dry weather. Deadhead spent flower heads (pluck or clip them off) to encourage reblooming. This will also control reseeding; all poppies reseed themselves easily and profusely.
Add a layer of mulch (1 to 2 inches) in the fall around perennial poppies, and the Oriental poppy in particular, to help protect the plant's new growth from hard freezes. Perennial poppies grow new foliage in the fall after a period of summer dormancy.