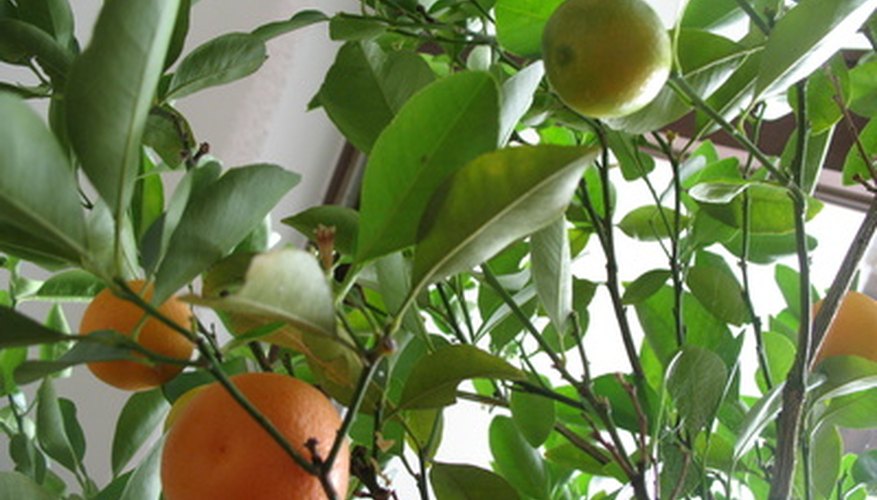 Parts of California provide good outdoor growing conditions for dwarf orange trees and other types of citrus. If you live in an area of Southern California that receives little or no frost, you can grow this tasty fruit in the ground outdoors year round. But because citrus trees are frost tender, you must grow them in large containers that you move indoors in the fall if you live in Northern California or a mountainous region. Dwarf orange trees do well in containers because they remain relatively small and compact.
Plant trees outdoors in areas that receive little or no frost. Choose a sunny area where the soil drains quickly: Four Winds Growers recommends southern exposures. If your soil is clay and it drains slowly, mix the soil in a 30-inch deep planting hole with 50 percent organic compost, which you can combine with peat moss or other amendments, such as redwood shavings, which give the soil acidity.
Plant your tree in a large container if you live in an area that receives winter frost. Choose a pot at least 12 inches in diameter and make certain it has a drainage hole. Use a light, fast-draining potting soil and situate your young tree so its root collar is just above soil level and the root crown is just below the soil. Avoid covering the trunk with soil.
Water your dwarf orange tree on a consistent basis. Check the soil at the tree's root level before you water it: citrus trees like their soil to be moist but not soggy. In summer, watering your tree once each week is often sufficient, but be sure to check the soil during very hot weather and water more often if it dries out.
Fertilize both potted and in-ground dwarf orange trees with a plant food designed for citrus. Such products should contain a nitrogen-phosphorus-potassium ratio of at least 2-1-1. You can also make compost tea or worm-casting tea, which are natural forms of fertilizer. Typically, you'll want to fertilize your tree about four times during its active growing season, beginning in early spring and continuing at regular intervals until August.
Prune your dwarf citrus tree in winter when it is relatively dormant. Dwarf orange trees respond well to pruning, so you can cut off branches to keep it well shaped and compact. Avoid cutting off flower buds because they will result in fruit later.
Control ants with a barrier product. Although ants do not harm your tree, they bring chewing insects such as aphids that can be very destructive. If aphids, spider mites, scale insects, mealy bugs or other insects attack your tree, spray it with a solution of dishwashing liquid soap and water or use a commercially prepared product designed to kill certain insects. Treat snails and slugs with iron phosphate granules you sprinkle on the ground around your tree.
Treat powdery mildew with a fungicide spray if you notice a white or gray sooty coating on the leaves.