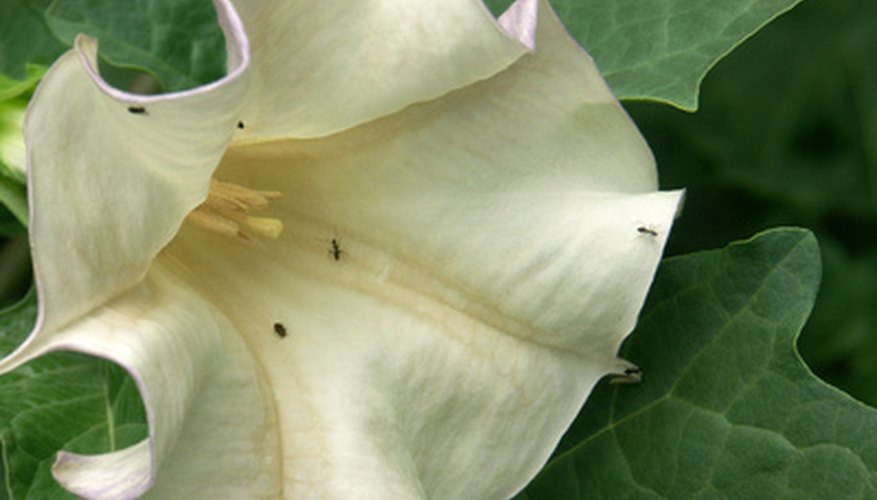 fleur blanche de datura image by Unclesam from Fotolia.com
According to the Centers for Disease Control, there were more than 1,072 moonflower poisonings and one death in 2002. Datura inoxia and Ipomoea alba are both known as moonflowers because both produce large, white night-blooming blossoms. However, that is not where the similarities end. The moonflower known as Ipomea alba is a toxic cousin of the equally toxic morning glory--or Ipomea nil.
Pulmonary
Moonflower can cause tachycardia and heart palpitations, and raise your blood pressure. In Akron, Ohio, in 2002, a young boy consumed nearly 200 moonflower seeds. The toxicity caused his blood pressure to plummet, nearly killing him, according to Jonathan Costen of Channel 5 News in Cleveland.
Mental
Long before the invention of Rohypnol, thugs used moonflower to knock out their victims, according to the Drug Safety Site. Besides causing disorientation, memory loss, agitation, confusion and panic, both moonflower varieties cause hallucinations that can lead individuals to harm themselves or others. Over the centuries, moonflower has been used by witches in Europe, Incan priests and shaman, according to the Drug Safety Site. Worse yet, moonflower ingestion can lead to coma and death.
Physical
Other physical effects of these night-blooming flowers include vomiting, diarrhea, convulsions, fever, blurred vision and headaches. According to eBasedPrevention.org, ingesting moonflower also can cause dilated pupils, urinary retention and a dry mouth. According to the CDC, signs and symptoms of moonflower poisoning can last 24 to 48 hours.