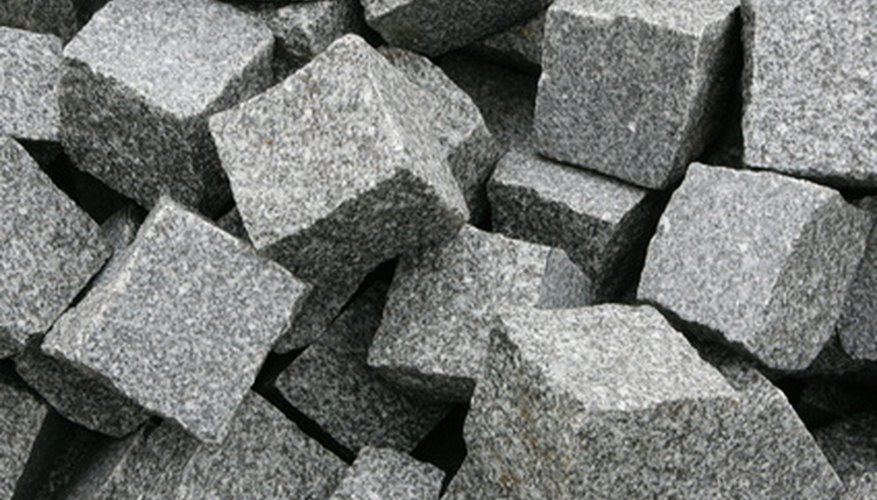 If you are looking for a unique way to refinish a concrete, laminate or other flat-surface countertop, you can take the opportunity to achieve countertops that look almost like real granite but cost much, much less. Faux granite kits contain an epoxy primer, real mineral flakes,and a clear topcoat that you can use to make your countertops over so that they appear quite a bit more upscale. This process can even be used on concrete-based countertops that were formerly tiled, if all the tile, grout and adhesives have been removed.
Lay down heavy tarps so that the floors around the countertops are completely covered and protected. Use additional tarps to cover large items that cannot be removed from the area. Apply painter's tape to the wall at all points where it meets the counter; overlap the tape if necessary to provide enough coverage.
Dunk a rag in a mixture of water and mild dish detergent and clean the countertops well. Remove dirt and surface debris; do not worry about stains, since they will be covered by the black epoxy primer. Rinse the countertops with a clean rag soaked in plain water and let them dry completely.
Cover just the top of the counter with primer, rolling it on in straight lines with a paint roller. Use an artist's sponge brush to paint the primer onto the edges and any small trim of the counter. Let the primer dry a minimum of six hours.
Apply the mineral flakes to the surface of a natural sponge. Dab the entire countertop with the sponge randomly to spread the minerals. Make the surface look as much like natural granite as you can.
Let the countertop dry for two hours. Sand any rough areas or areas where the minerals are too thick lightly using 320-grit sandpaper. Wipe away any sanding dust carefully with a rag.
Replace the roll of the paint roller with a clean one. Apply a thin layer of the clear topcoat to the entire counter in straight lines with the roller. Let the countertop dry for at least eight hours.
Roll a second, thin layer of topcoat onto the counter. Remember to cover the edges of the countertop, without letting the topcoat drip. Wait 48 hours before using the counter.
Things You Will Need
Heavy tarps

Painter's tape

Rags

Water

Dish detergent

Faux granite kit

Paint roller with extra roll

Artist's sponge brush

Natural sponge

320-grit sandpaper